Submitted by
beebemed.org
on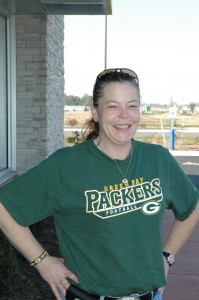 Heather Barnes
Heather Barnes of Dagsboro was only 38 years old when she felt the lump on her breast. She was surprised because of her age, but her daughters knew what to do. They immediately called around to find out where their mother should go to get it checked out.
"Debbie Campbell called me and set up an appointment," Mrs. Barnes says, pointing out that Mrs. Campbell helped her get an appointment for a mammogram, and then helped her get an appointment with a surgeon for a biopsy.
Debbie Campbell, RN, is Beebe Medical Center's Cancer Screening Nurse Navigator, and focuses on getting people screened for colon, prostate, and skin cancers, as well as for breast and cervical cancers. Mrs. Campbell also can help patients obtain funding for cancer screening and cancer care if they need assistance. In Mrs. Barnes' case, the two screenings and the biopsy were paid for by either the state-funded Screening for Life program or by Tunnell Cancer Center with a grant from the Philadelphia Affiliate of the Susan G. Komen for the Cure.
"I am very grateful of how much Debbie helped me," Mrs. Barnes said. "I could never have afforded this care myself as we don't have medical insurance. I also want to tell all women that they should do self-breast examinations. You just never know."
With a grant from the Philadelphia Affiliate of the Susan G. Komen for the Cure, Tunnell Cancer Center offers free mammograms to women who qualify. The next Breast Health Forum event where women who qualify can get free mammograms, as well as clinical breast exams and breast health education, is on Thursday, December 13, from 5 p.m. to 7:30 p.m. the Tunnell Cancer Center facility at the Beebe Health Campus on Route 24 in Rehoboth Beach.
Pre-registration is required prior to the event. To register, please call (302) 645-3169. Free transportation can be arranged to and from the screening site.
Tunnell Cancer Center reminds the public that all women 18 years and older should have a clinical breast exam, and all women 40 years and older should have a yearly mammogram.
Beebe Medical Center is a not-for-profit community medical center with a charitable mission to encourage healthy living, prevent illness, and restore optimal health with the people residing, working, or visiting in the communities we serve. For more information, please visit us online at www.beebemed.org