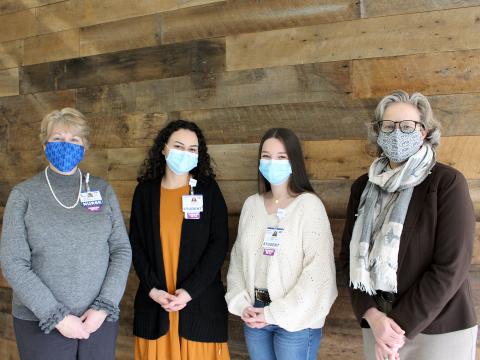 Celebrating 100 Years
The Margaret H. Rollins School of Nursing, formerly Beebe School of Nursing, is celebrating its 100th Anniversary. Share your story and shop the new 100th Anniversary store!
HOW CAN WE HELP YOU?
Click each section below for options.
FOR PATIENTS
As the largest employer in Sussex County, Delaware, many of our team members are likely your neighbors, friends, or even your family members. Team Beebe provides patient-centered care for you and your loved ones at multiple locations throughout Sussex County.
Please remember: Face Coverings are required at all Beebe care sites. Practice physical distancing and be sure to have an appointment. Call 302-645-3278 to schedule an appointment.
If you need to talk to someone about your care, call our Patient Advocates: 302-645-3547.
FOR VISITORS
Thank you for visiting Beebe Healthcare. We hope to make your visit as calm and efficient as possible. When you visit, please have your ID card ready. We offer free valet parking at both the Lewes Campus and at our Tunnell Cancer Center.
FOR MEDICAL PROFESSIONALS
Whether you are currently a member of Beebe Medical Staff or are interested in joining our team, we have a vast array of physician resources. In addition, our Physician Liaison is available to talk to you about new and upcoming services offered at Beebe.
---
BEEBE STORIES
---
---
Awards & Accolades