Hospital Quality Study Finds Beebe Medical Center in Top 5% in Nation for 4th Consecutive Year™
HealthGrades® Distinction is Based on Outstanding Patient Outcomes Across 30 Medical Procedures and Diagnoses
Beebe Medical Center announced that HealthGrades, the nation's most trusted source of health care provider information, has named it a Distinguished Hospital for Clinical Excellence™. This prestigious distinction places Beebe Medical Center among the top 5% of hospitals nationwide for clinical performance for the 4th consecutive year.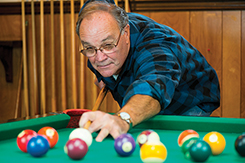 Bill Sunday enjoys every moment of his life.
HealthGrades Hospital Quality and Clinical Excellence study, objectively identifies those hospitals with the best overall clinical performance across more than 30 medical diagnoses and procedures that the organization rates. These 262 top-performing hospitals represent only 5% of the nation's hospitals and each is designated as a HealthGrades Distinguished Hospital for Clinical Excellence™. Beebe Medical Center is the only hospital on Delmarva to be a Distinguished Hospital for 4 Years in a Row (2010–2013).
HealthGrades named Beebe Medical Center one of America's 100 Best Hospitals for Orthopedics, Joint Replacement, and Spine Surgery for 2013. Beebe was named best on all of the Delmarva Peninsula for Orthopedics, Joint Replacement and Spine Surgery. It also gave Beebe's interventional cardiology program a 5-star rating for coronary interventional procedures (stents, angioplasty), and rated the program as #1 in Delaware for coronary interventional procedures, based upon clinical outcomes from 2009 to 2011.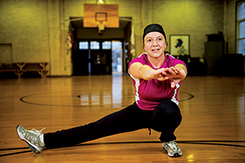 SFC Sonja Robbins enjoys her strenuous exercise routine.
"We are extremely proud to have received this award, especially now for four years ina row," said Jeffrey M. Fried, FACHE, President and CEO of Beebe Medical Center. "It is quite an honor. It shows a consistency in outstanding clinical care and reflects the commitment to quality and patient safety of our Board members, our physicians, our clinical staff and all of our employees.
"The award also recognizes the attention to detail and to continuously improving processes, both inside the hospital and in our outpatient programs, such as Beebe CAREs, that have made our clinical outcomes among the best in the nation."
Beebe Quality Awards
Beebe Medical Center has received additional national recognition for its quality programs and its ongoing efforts to bring evidence-based medicine to the community. Process improvement initiatives are ongoing at Beebe Medical Center as employees and leadership focus on bringing the best quality medical care to the communities it serves. The Centers for Medicare and Medicaid Services (CMS) has recognized Beebe Medical Center in its "Hospital Value Based Purchasing" rating system. Beebe Medical Center received a 73.3 rating, which put it 32 percent higher than the national average and 53 percent higher than the Delaware hospital average. The rating is important to consumers because it means that hospitals with a higher rating provide a higher standard of care.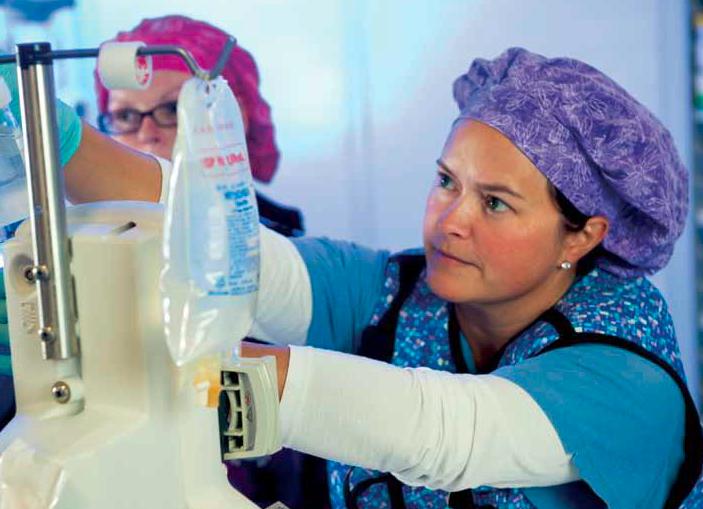 Peggy Parsons, CVT (left), and Nicole Fisher, RN, prep the Cath Lab for a cardiac catheterization procedure. Healthgrades® has rated Beebe Medical Center #1 in Delaware for Coronary Interventional Procedures three years in a row (2011–2013).
A 2012 Medicare (CMS) report shows that Beebe Medical Center also stands out as a hospital that provides high quality patient care at an efficient cost. Detailed information on everything from patient infection rates and serious complications to how patients are treated during a heart attack, a bout of pneumonia, or in a surgical procedure is spelled out in the Medicare Hospital Compare web pages found at https://hospitalcompare.hhs.gov. Details available today summarize the results of the latest complete fiscal year -- from July 2010 to June 2011.
The details found on the Hospital Compare web pages show that Beebe Medical Center, in general, rates either better than the national rate or at the national rate in dozens of specific, measures related to quality and safety. Beebe Medical Center rates better than the national benchmark for the amount of money that is spent per patient on each episode of care. The spending benchmark, referred to on the website as "Medicare Payment," was added to the report this year.
Becker's Hospital Review, a respected industry publication, in 2012 also named Beebe Medical Center among the 100 Great Community Hospitals in the nation.
Healthgrades over the past year also has recognized Beebe Medical Center for its quality care in orthopaedic surgery, cardiology, vascular surgery, and pulmonary care. The findings are part of American Hospital Quality Outcomes 2013: Healthgrades Report to the Nation, which evaluates the performance of approximately 4,500 hospitals nationwide across nearly 30 of the most common conditions and procedures. The 2013 performance outcomes are now available free to the public at www.healthgrades.com.
For more information about Healthgrades, to download a full copy of the report or to get information about hospital and physician quality, visit: www.Healthgrades.com today.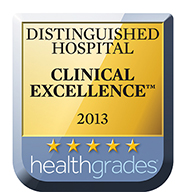 The HealthGrades study found that:
Distinguished Hospitals for Clinical Excellence (Top 5% in the nation), such as Beebe Medical Center, outperformed all other hospitals across all of the 17 mortality cohorts and six of nine complication cohorts studied from 2009 through 2011. Specifically, Distinguished Hospitals for Clinical Excellence had an overall 30.9 percent lower risk adjusted mortality rate as compared to other hospitals that did not achieve the Distinguished Hospital for Clinical Excellence Award (across 18 common inpatient conditions and procedures).