Beebe - Distinguished Hospital Award 2013 for Clinical Excellence by HealthGrades - Beebe Medical Center
Hospital Quality Study Finds Beebe Medical Center in Top 5% in Nation for 4th Consecutive Year™
HealthGrades® Distinction is Based on Outstanding Patient Outcomes Across 30 Medical Procedures and Diagnoses
Beebe Medical Center announced today that HealthGrades, the nation's most trusted source of health care provider information, has named it a Distinguished Hospital for Clinical Excellence™. This prestigious distinction places Beebe Medical Center among the top 5% of hospitals nationwide for clinical performance for the 4th consecutive year.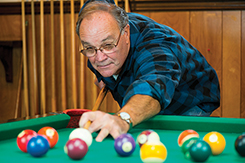 Bill Sunday enjoys every moment of his life.
HealthGrades Hospital Quality and Clinical Excellence study, released today, objectively identifies those hospitals with the best overall clinical performance across more than 30 medical diagnoses and procedures that the organization rates. These 263 top-performing hospitals represent only 5% of the nation's hospitals and each is designated as a HealthGrades Distinguished Hospital for Clinical Excellence™.
Earlier this year, HealthGrades named Beebe Medical Center one of America's 100 Best Hospitals for Orthopedics, Joint Replacement, and Spine Surgery for 2013. Beebe was named best on all of the Delmarva Peninsula for Orthopedics, Joint Replacement and Spine Surgery. It also gave Beebe's interventional cardiology program a 5-star rating for coronary interventional procedures (stents, angioplasty), and rated the program as #1 in Delaware for coronary interventional procedures, based upon clinical outcomes from 2009 to 2011.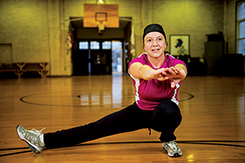 SFC Sonja Robbins enjoys her strenuous exercise routine.
"Beebe Medical Center can be proud of the contributions of its physicians, nurses and staff in achieving outstanding patient care," said Kristin Reed, HealthGrades vice president of hospital ratings and author of the study. "The Delmarva community is fortunate to have access to some of the highest quality hospital care in the nation."
"This outstanding achievement, attained now for four years in a row, is a credit to everyone at Beebe Medical Center," said Jeffrey M. Fried, President and CEO of Beebe Medical Center. "It reflects the commitment to quality and safety in patient care of our Board members, our physicians, our clinical staff and all of our employees.
"The award recognizes the attention to detail and to continuously improving processes that have made our clinical outcomes among the best in the nation. We take great pride in our collective efforts to continually identify opportunities for improvement, and for focusing on quality and on producing excellent results and outcomes for our patients."
Beebe Quality Awards
Beebe Medical Center has received additional national recognition over the past year for its quality programs and its ongoing efforts to bring evidence-based medicine to the community.
In December 2011, The Commission on Cancer (CoC) of the American College of Surgeons again granted a Three-Year Accreditation with Commendation to the Tunnell Cancer Center at Beebe Medical Center. It was the third time that Tunnell Cancer Center gained the coveted Commendation designation as part of the Certificate of Accreditation, although Tunnell Cancer Center has consistently received accreditation from the Commission on Cancer. According to the Commission, accreditation is given only to those facilities that have voluntarily committed to providing the highest level of quality cancer care and that agree to undergo a rigorous performance evaluation.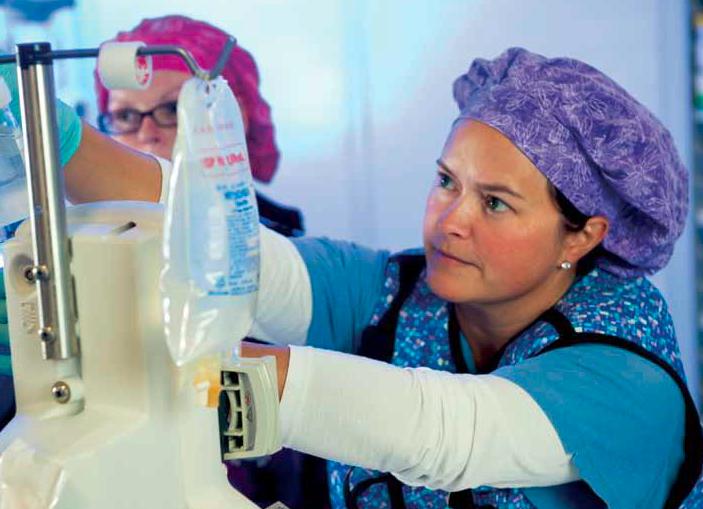 Peggy Parsons, CVT (left), and Nicole Fisher, RN, prep the Cath Lab for a cardiac catheterization procedure. HealthGrades® has rated Beebe Medical Center #1 in Delaware for Coronary Interventional Procedures three years in a row (2011–2013).
Center of Excellence in Women's Health. The American Heart Association/American Stroke Association presented Beebe Medical Center, a certified Advanced Primary Stroke Center, with the Get With The Guidelines-Stroke Gold Plus Quality Achievement Award. The award recognizes Beebe Medical Center's commitment and success in implementing excellent care for stroke patients, according to evidence-based guidelines. At the same time, The National Stroke Association acknowledged Beebe Medical Center's commitment to stroke care.
The American College of Radiology (ACR) designated Beebe Medical Center as a Breast Imaging Center for Excellence. By awarding this designation, the ACR recognizes breast imaging centers that have earned accreditation in all of the College's voluntary, breast-imaging accreditation programs and modules, in addition to the mandatory Mammography Accreditation Program. Beebe Medical Center's breast imaging services are fully accredited in mammography, sterotactic breast biopsy, breast ultrasound and ultrasound-guided breast biopsy.
Last year, Beebe Medical Center was the first hospital in Delaware and on the Delmarva Peninsula – and one of only 12 in the United States – to be named a Center of Excellence in Women's Health by the American Institute of Minimally Invasive Surgery (AIMIS). This designation reflects Beebe Medical Center's commitment to adopting the minimally invasive surgical procedures that medical research shows faster and easier recovery time and better outcomes for patients, when the procedures are appropriate. Beebe Medical Center is establishing a minimally invasive surgery department.
Unlike other hospital quality studies, HealthGrades evaluates hospitals solely on clinical outcomes: risk-adjusted mortality and inhospital complications. HealthGrades' analysis is based on approximately 40 million Medicare discharges for the years 2009, 2010 and 2011. Using these top-performing hospitals as a benchmark in this year's HealthGrades study, HealthGrades quantifies the impact of differences in hospital quality in terms of lives lost and unexpected complications.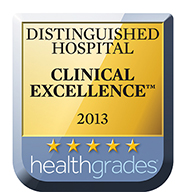 The HealthGrades study found that:
Distinguished Hospitals for Clinical Excellence (Top 5% in the nation), such as Beebe Medical Center, outperformed all other hospitals across all of the 17 mortality cohorts and six of nine complication cohorts studied from 2009 through 2011. Specifically, Distinguished Hospitals for Clinical Excellence had a 30.07% lower risk-adjusted mortality rate and a 1.86% lower risk-adjusted inhospital complication rate among Medicare beneficiaries compared to all other hospitals. In fact, if all hospitals performed at the level of Distinguished Hospitals for Clinical Excellence, 165,704 Medicare lives could potentially have been saved and 6,800 Medicare inhospital complications could potentially have been avoided.
About Beebe Medical Center
Beebe Medical Center, located in Lewes, Delaware, is a community-owned, not-for-profit hospital with 210 licensed beds. Healthcare accreditation and certification organizations have recognized Beebe Medical Center for its focus on quality and safety and the implementation of a standard of care that fosters the best possible outcomes.
Beebe Medical Center provides the community with progressive and comprehensive medical care that includes a Joint Commission certified Advanced Primary Stroke Center, an open-heart surgery program which is an affiliation with Christiana Care Health System, cardiac intervention, cancer treatment, orthopedic surgery, including Joint Commission certified knee and hip replacement surgery programs, women's health and emergency medicine. It has numerous outpatient facilities in satellite locations and the only hospital-based school of nursing in Delaware. More than 200 physicians who bring more than 30 medical specialties are members of the Medical Staff.
HealthGrades Hospital Quality Distinctions
As part of this study, HealthGrades rates each of the nation's 4,500 nonfederal hospitals in 30 procedures and diagnoses, allowing individuals to compare their local hospitals online at www.healthgrades.com. HealthGrades' hospital ratings are independently created; no hospital can opt-in or opt-out of being rated, and no hospital pays to be rated. Mortality and complication rates are risk adjusted, which takes into account differing levels of severity of patient illness at different hospitals and allows for hospitals to be compared equally.
About HealthGrades
HealthGrades, headquartered in Denver, Colorado, is a leading provider of comprehensive information about physicians and hospitals. More than 200 million consumers use the HealthGrades websites, including HealthGrades.com and BetterMedicine.com, to research, select, and connect with a physician or hospital, and use its comprehensive information about clinical outcomes, patient satisfaction, patient safety, and health conditions to make more informed healthcare decisions and take action. Find more information about our products and services at HealthGrades.com. Follow us on Twitter (@HealthGrades) and Facebook for news and updates. More information on how HealthGrades guides Americans to their best health can be found atwww.healthgrades.com.