What You Should Know
Beebe's South Coastal Health Campus near Millville is under construction! The South Coastal Emergency Department opened May 5, 2020. The South Coastal Cancer Center is still under construction with plans for its opening later this year.
---
May 2020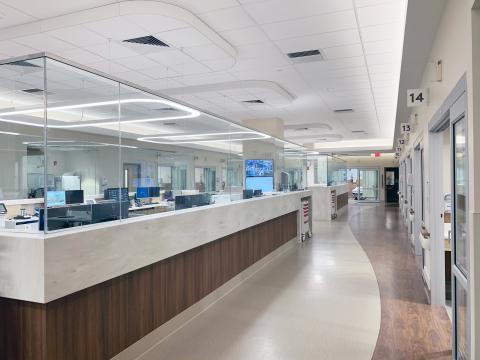 The South Coastal Emergency Department opened in a socially distanced ceremony on May 5.
Learn more about the new freestanding emergency department
---
---
December 2019
The parking lots have been paved and the helipad is taking shape at the new South Coastal Health Campus as we move into 2020!
(Photos courtesy of Tony Petralia)
---
Video Flyover – August 2019
Rob Waters of W Films shot a video flyover of our South Coastal Health Campus in August to show all the progress!
---
August 2019
Construction is moving forward at the South Coastal Health Campus! The building is really taking shape and you can see where the new emergency department entrance will be and where ambulances will access the building.
---
June 2019
Team members and supporters gathered June 13 on the new campus to sign a portion of a beam and a wall to celebrate the forward progress of construction! The beam was also taken to Tunnell Cancer Center in Rehoboth and the Emergency Department in Lewes to allow team members to sign it.
---
May 2019
South Coastal Health Campus Update: Installation is moving forward for the overhead electrical and data conduits for our new campus near Millville. To date, we have installed 7,000 feet (1¼ miles) of conduit and are slated to install another 5,000 feet in the next few weeks for a total of 2¼ miles of conduit before the end of May.
---
April 2019
Steel beams are rising on our South Coastal Health Campus!
---
February 2South Coastal Health Campus Construction – February 2019019
---
January 2019
Equipment can now be seen on the site! Progress!
December 2018
Work trucks and teams from Beebe's integrated construction and design firms start the process of moving dirt for the new campus.
November 2018
Beebe team members, supporters, and community members gathered at the site of the planned new campus for a groundbreaking event.
---