Here for health. Here for you.
Wellness is an active process through which people become aware of, and make choices toward, a more successful existence. – National Wellness Institute
Beebe Wellness is here to support you in your quest to improve and maintain good health. The goal of Beebe Wellness is to empower you with the knowledge and skills in multiple dimensions of wellness to help prevent illness and disease, as well as to manage any chronic medical conditions, so that you can enjoy an optimum quality of life.
Beebe Wellness provides a collection of workshops, exercise and relaxation opportunities and one-on-one fitness coaching that allow you to explore and learn about differing areas of wellness so that you find a path that you enjoy and that motivates you.
Beebe Wellness also connects you to Beebe Healthcare's experts in diverse medical fields who can support  you in your health journey. If you suffer from chronic back or neck pain, the Beebe HealthyBack program may be right for you. Find out more.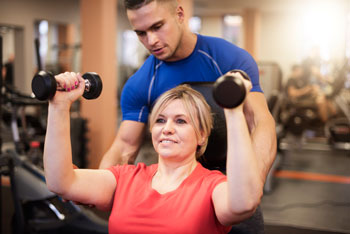 Beebe Wellness also includes Pulmonary Wellness and Cardiac Wellness program, which includes the Ornish Reversal Program.
Meet Our Health and Wellness Coaches
Jake Murray, CSPS, Wellness Coach
Jake is a certified personal trainer, a certified Special Populations Specialist and is certified in MedX equipment.
After growing up playing a multitude of sports, he attended the University of Delaware (UD) where he earned his Bachelor's degree in Exercise Science with a concentration of Exercises Physiology.  While attending UD, he worked at the Student Fitness Center on campus as a Certified Personal Trainer.  During his time with Beebe Healthcare, he has become Certified in MedX equipment and more recently earned his Certified Special Populations Specialist accreditation.
As a Certified Special Populations Specialist in Beebe's Wellness Program, he is able to help out members in the community achieve their health and fitness goals. With the ever-growing aging population in the area, more and more individuals are left without the proper resources to be able to reach those goals safely and efficiently.  His skillset allows him to benefit the existing members in the Beebe Wellness program, and influence those who may be hesitant about starting a fitness program due to their specific health and medical conditions.
He also works with a local healthcare facility to lead fitness classes for adults with traumatic brain injuries. He is certified in CPR and trained to use an Automated External Defibrillator (AED). 
Raylen Williams, Wellness Coach
Raylen is a certified Yoga Instructor, mindfulness instructor and balanced athlete instructor.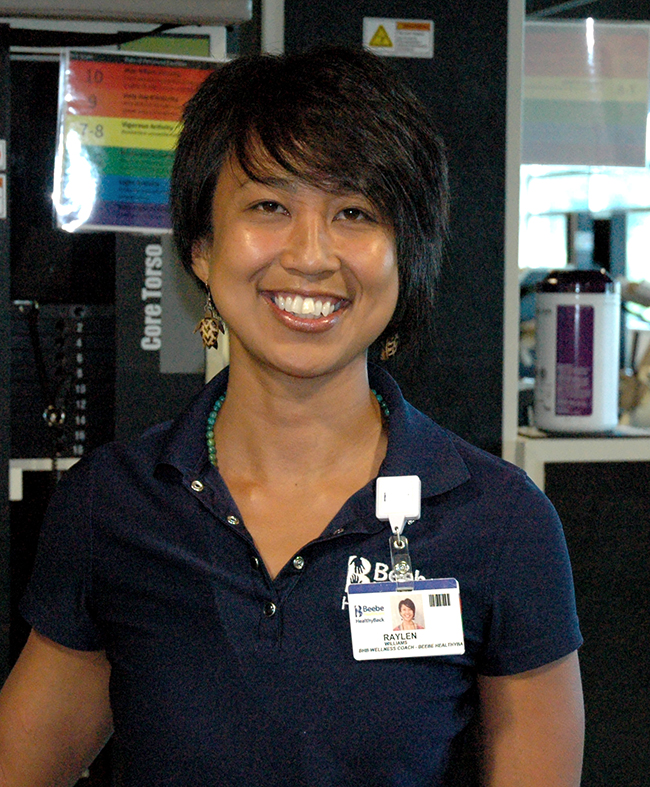 Raylen graduated from University of Delaware (UD) with a Bachelor's degree in Psychology. Her exploration of movement began with Martial Arts and working in the physical therapy field. She completed her Yoga Teacher, Meditation Teacher, and Balanced Athlete Coach certifications through Empowered Yoga. Other certifications include: MedX Equipment, Svaroopa Yoga Foundations, Groovy Kids Yoga, Level 1 Reiki; and she is currently working towards her Mind Body Fitness Coach certification.
She loves to share her joy of movement with the intention of co-creating a safe environment for individuals to explore, be curious, feel, and connect.  By integrating the practice of mindfulness in the program, participants learn to become aware of how they live in their bodies helping them to develop a healthier relationship with themselves.
"I love exploring movement. My intention is to co-create a safe environment for individuals to explore, be curious, feel, and connect. With the practice of mindfulness integrated into the program, participants learn to become aware of how they move and live in their bodies helping them to develop a healthier relationship with themselves."
Rita Karapurkar Williams, MA, CHES Health Coach
Rita is a certified Wellness Inventory Coach and has completed certificate programs in Integrative Health and Lifestyle, and mindfulness curriculm training.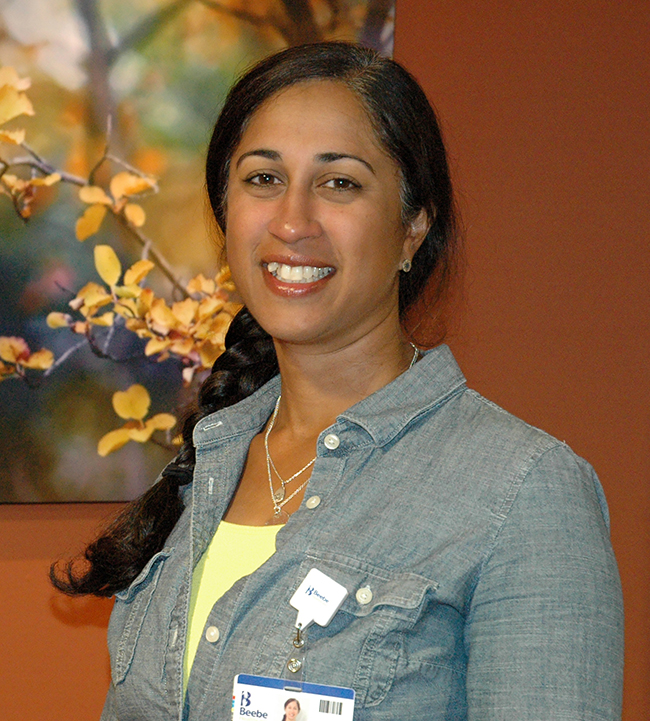 Rita Karapurkar Williams is a Health Coach at Beebe Healthcare. As a Health Coach, she partners with individuals to foster positive behaviors and help them reach their health goals. She is also instrumental in planning, developing and implementing the Wellness program.
With years of experience developing patient-centered health education programs, she strongly believes that for people to get well or stay well, they need education (knowledge + skills) and tools that empower and engage them to take an active role in their health. Healthy behaviors is a way of life. And, it is not one-size-fits-all; individuals are at the center of their own health, with different values, goals, and needs.
Rita holds a master's in Health Education from Teacher's College, Columbia University and she is a certified health education specialist (CHES). In addition, she has completed a certificate program in Integrative Health and Lifestyle program from the Arizona Center for Integrative Medicine and is a Certified Wellness Inventory Coach through Well People.
Rita is also a founding member of Minds Over Matter Initiative, LLC, a local organization focused on delivering mindfulness training to students, educators, families and community members throughout Delmarva. To support the Initiative, Rita completed the Mindful Schools Foundations course and Curriculum Training certificate program. She is always growing and learning, personally and professionally!
Additional Wellness Resources