Bonnie Austin retired September 1, 2018 after 56 years of nursing at Beebe Healthcare. This is her story, in her own words.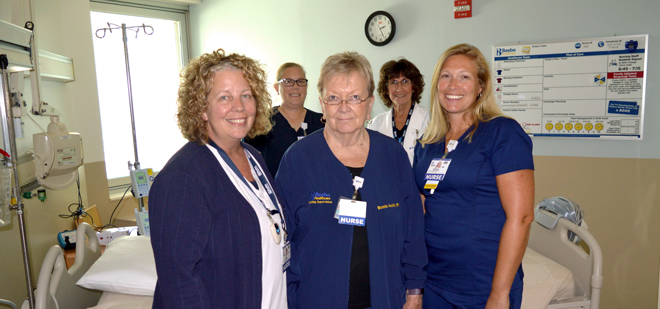 My Beebe journey started on a very hot day in late August of 1959 in the house that still is located on the corner of Beebe Ave. and Savannah Road. That was Beebe School of Nursing. Over the next three years, there were rigorous nursing classes, clinical time, plus 10 months spent at D.C. General in Southeast Washington, D.C. for Psychiatric, Obstetrical, Pediatric, TB, and Neurological nursing. I graduated in late August 1962 and still had enough money left over from my $250 Lions Club Scholarship to buy my graduation uniform and State Board Review Book.
My nursing career started in September 1962 as staff nurse on both Shaw Building and Thompson Annex. The number of doctors on staff were five: Dr. Beebe, Dr. Ware, Dr. Pierce, Dr. Stambaugh, and Dr. Klingel. In contrast, today there are over 300 doctors on staff. My salary was $210 a month, which increased to $240 when I passed state boards.
In the fall of 1965, Elizabeth Abrams, Director of Nursing, approached me and asked that I set up our Pediatric Unit (located where the educational classrooms are now) as a separate unit with me as "Head Nurse." She told me she knew in the near future that Beebe School of Nursing would need to teach Pediatrics at Beebe as it was getting more and more difficult to find places to affiliate.
From the fall of 1965 until December of 1968, I was doing what I loved most, taking care of children. I worked Monday through Friday, 8-hour shifts, and was off each weekend. One of the incentives of being Head Nurse was four weeks paid vacation. Today, I still get four weeks paid vacation. I cared for children who were burned, had fractures, osteomyelitis, respiratory tract infections, and surgery for pyloric stenosis, hernias, appendicitis and much more. I see many of those children I cared for and today they are in their 50s and 60s. I took care of one 15-year-old with a fractured femur, who after high school moved to Virginia Beach, married, and had children of his own. Each summer he would come home to see his mom and visit me. He and I still have a special bond.
In the fall of 1968, Elizabeth Abrams approached me again and this time she told me that in December, pediatrics would be taught at Beebe. She had a nurse with her BSN to teach and asked me to transfer to the school to help for one year with the clinical aspect, both in the hospital and the community. I loved my job and really did not want to go. I was promised it would only be for just one year and then back to "my" pediatric unit I could go.
Life can take many twists and turns, and I became the recipient of one of these. Two weeks into the course, the instructor hired to teach Pediatrics, quit. I thought "Oh my, what now?" Elizabeth Abrams said, "Bonnie, you were a great teacher to your class during nursing school, you have tutored failing students, and you have to teach these students until we find another person." This became my journey and destiny for the next 31 years. That first class was an eclectic group of young ladies and thank God they were understanding, flexible, and just a joy to teach. I learned as they learned. Ask Same Day Surgery's Mimi and she will tell you what a glorious journey it was. They had a class mean of 99% on their Pediatric NLN at the end of the course and all passed their State Boards.
I went back to School first at the University of Delaware and then Wilmington University and graduated with my BS in 1976. I taught for 31 years and had the privilege of teaching many young, and not so young, women and men who have become outstanding nurses and leaders in the nursing profession. Today at Beebe, I am proud to say there are Directors, Nurse Managers, Nurse Anesthetists, Nurse Practitioners, Nurse Educators, Supervisors, and dedicated staff nurses that I taught. I was an instructor who loved to teach and took great pride in what I did.
In 1999, I decided I needed to change my focus. I had done relief supervision for many years and there was a position available for a full-time nursing supervisor. I have been at this position now for 19 years. I was honored with the Nursing Leadership Award on May 10, 2012, and each year the Bonnie B. Austin Leadership Award is given to a deserving and distinguished candidate. On August 31, 2018, after my 7 a.m. shift and after 56 years at Beebe, I will be retiring. The journey has been filled with many memories that I will carry with me. Thank you to all who have been a part of my journey. I will miss you and "My Beebe Hospital."