Foundation Events
3rd Annual Tom King Nine & Dine Golf Tournament
Mulligan's Pointe Golf Club, Georgetown, DE
Beebe Healthcare Heroes worked tirelessly throughout the COVID-19 pandemic to provide quality care to our community members.  They made many personal sacrifices to ensure that our community remained safe and well cared for during the pandemic.
These Heroes include not only our frontline team members who provide patient care, but also the countless team members who work behind the scenes to keep the hospital running smoothly and efficiently.
The Tom King Nine & Dine Committee has chosen to honor all Beebe Healthcare Heroes for their service and dedication to our community, especially during the COVID-19 pandemic. This Committee embodies many of the same values as Tom King: compassion, service, safety, teamwork, and philanthropy.
Beebe Healthcare Heroes are proud to know their community is raising funds in their honor to support Beebe Healthcare's Cancer Special Needs Fund.
Image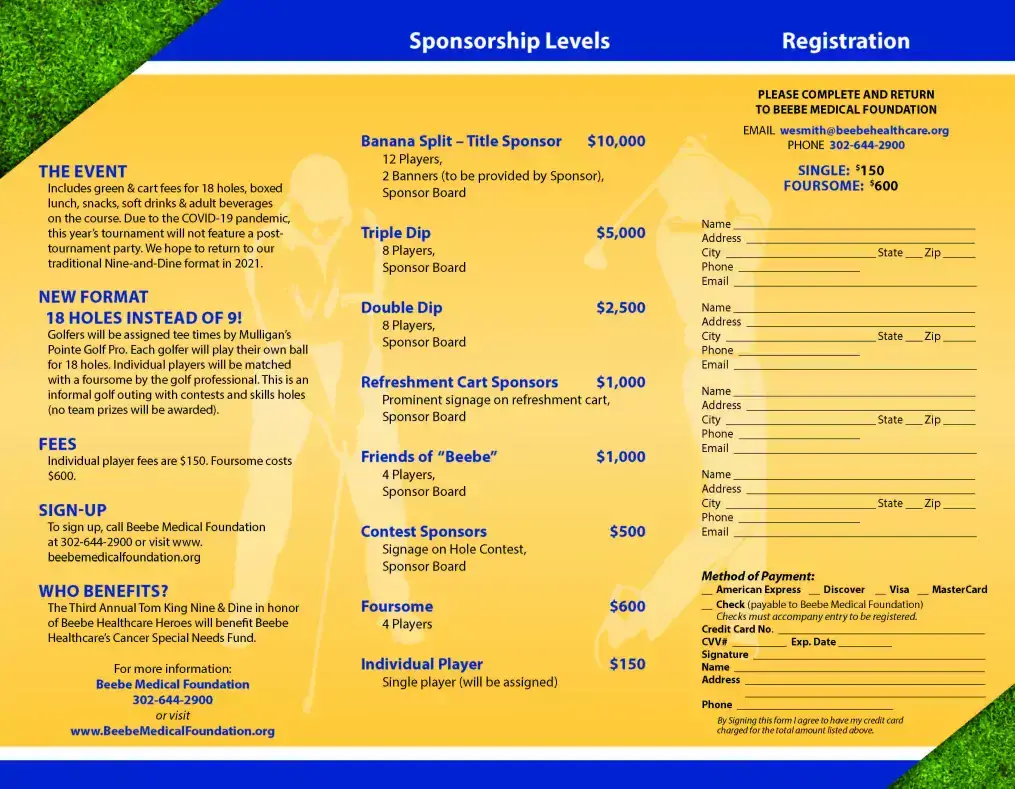 THE EVENT WILL BE 18 HOLES THIS YEAR!   
Golfers will be assigned tee times (9-11am) by Mulligan's Pointe Golf Pro.  Each golfer will play their own ball for 18 holes.

Individual players will be matched with a foursome by the golf professional.

This is an informal golf outing with contest and skills holes (no team prizes will be awarded).   

Included in registration are green & cart fees for 18 holes, boxed lunch, snacks, soft drinks & adult beverages on the course.   

Due to the COVID-19 pandemic, this year's tournament will not feature a post-tournament party. We hope to return to our traditional Nine-and-Dine format in 2021.
---