Screening/Clinic
Naloxone Training, Rehoboth
Epworth United Methodist Church
Image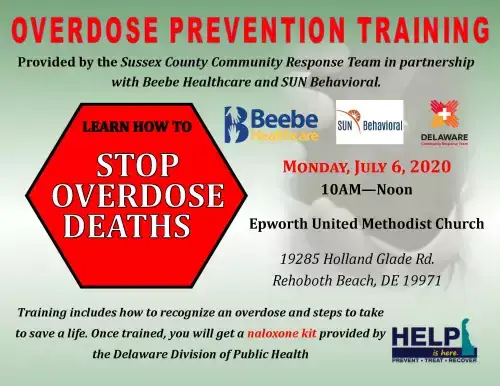 In collaboration with Beebe Healthcare and SUN Behavioral Health, the Sussex County Community Response Team is hosting a Naloxone Point of Distribution and training event in Rehoboth Beach on Monday, July 6, from 10 a.m. to Noon. The event will take place at the Epworth United Methodist Church, located at 19285 Holland Glade Rd. If you or someone you know is interested, you can drop in at any time between 10 a.m. and Noon on Monday, July 6, to receive this free training and a naloxone kit, as well as learn more information about available treatment and support resources in our local area.
 
Due to the impact of COVID-19 in Delaware, this event will be held outdoors in the Epworth United Methodist Church parking lot, with both car side and walk up options, in order to maintain a social distance of six feet between all participants and volunteers.
 
Naloxone, generic for Narcan, is an opioid overdose reversal medication used to save lives. Please share this information with your colleagues, friends, and community who are living and working in Rehoboth Beach and the surrounding areas, including those who are at risk of experiencing an overdose and their families.
 
In addition, if you or someone you know is struggling with addiction and would like information on available treatment and recovery services, call the 24/7 Crisis Information and Referral hotline at 1-800-345-6785.
---