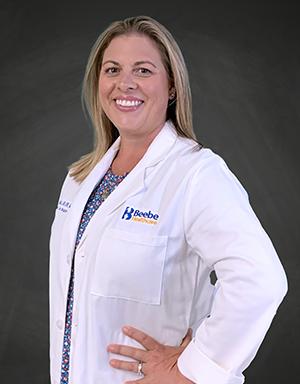 Hi, I'm Carrie Snyder, Nurse Navigator at Beebe Healthcare. I serve as a resource for community members to help guide them on their healthcare journey.
Part of my job is answering calls and emails from residents and visitors to help connect them with the services they need. I aim to help community members navigate the complex healthcare system - connecting individuals to the care team and providers they need.
---
Some commonly asked questions are:
Q: How do I know if I should go to the Emergency Department or to the Walk-In Care?
Click here for tips on this topic.
Q: I am looking for a physician, where should I start?
We have an online Find A Doctor database that is a great place to start. You can also call a Nurse Navigator for support in locating the best doctor for you: (844) 316-3334.
Q: I recently learned I am pregnant, when do I need to make my first appointment?
Our OB/GYNs recommend making your first appointment around 12 weeks, however you are welcome to call the practice and set it up at any time. Click here for our list of OB/GYNs.
Q: I have had leg pain and my physician recommended seeing someone - does Beebe have someone specializing in vein issues?
Yes, Beebe Vascular has a Vein Center at Beebe Vascular. Find out more and contact them here.
Q: I have ongoing pain from an old injury, should I see an orthopedist?
Often, old injuries can cause a need for orthopaedic surgery. We have several orthopaedic surgeons affiliated with Beebe. Click here to contact them to make an appointment. If you are not ready for surgery, Beebe Physical Rehabilitation Services can work with you to strengthen your muscles, reduce pain, and get you feeling better without surgery. Find out more and contact Physical Rehab here.
---
Contact Carrie
If you have other questions besides those listed here, please send me a message using the form above! You can also call me at my specific numbers below.
For Cardiac questions, call (844) 316-3334.
For Orthopaedic questions, call (844) 316-3332.
For Women's Health questions, call (844) 316-3330.
For Surgery questions, call (844) 316-3339.