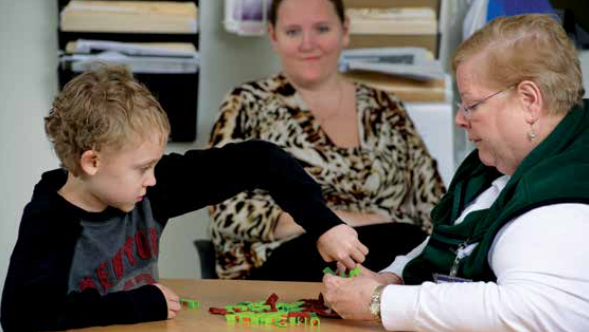 Nine-year-old Caleb Clobes sustained a broken left elbow so serious in a fall from the parallel bars that he lost all feeling in his hand. Crushed bone tore into tissue and interrupted the flow of blood in his tiny vessels so that he could not even move his fingers. "The nerve damage was severe, and we could hardly feel a pulse in his arm," recalls his mother, Beebe Healthcare oncology nurse Allison Clobes. That day in September 2014, Caleb was stabilized in Beebe's Emergency Department and then quickly airlifted to Alfred I. DuPont Hospital for Children in Wilmington, Delaware, where surgery was performed.
While the bone was able to mend after five weeks immobilized in a cast, the complexity of the injury has meant months of painstaking work for Caleb and Alice Workman, OTR/L CLT, the Beebe occupational therapist who is teaching him how to use his left arm and hand again.
"When the cast was removed, his arm was locked into place and we worried about range of motion," Allison says. "And he still didn't have normal feeling in his hand."
Caleb, a precocious boy who doesn't like to stay still for a minute, adds, "I couldn't move my hand."
Caleb immediately started occupational therapy at the Beebe Health Campus on Route 24 in Rehoboth Beach. Beebe occupational therapists work with children and teens, as well as adults who have sustained injuries to bones, soft tissue, and nerves. While most often these injuries occur during sports and other activities, some have been caused by burns. Alice recalls that the youngest patient she treated was a 1½-year-old who had suffered a burn.
"In Caleb's case, our focus was on the damage to the nerves that was causing his inability to use his hand, especially his thumb and index finger, and the fact that he couldn't feel anything."
Alice explains that the lack of sensation in a hand is of great concern because that's where we get our safety information, such as how cold or hot or sharp something may be. "We have had to teach Caleb how to use his thumb to oppose other digits to pick up things and to use his vision to compensate for his loss of feeling in his hand. We have provided exercises and activities for him that stimulate nerve recovery and diminish the abnormal sensation that occurs as the nerve heals."
Caleb went to occupational therapy regularly for months.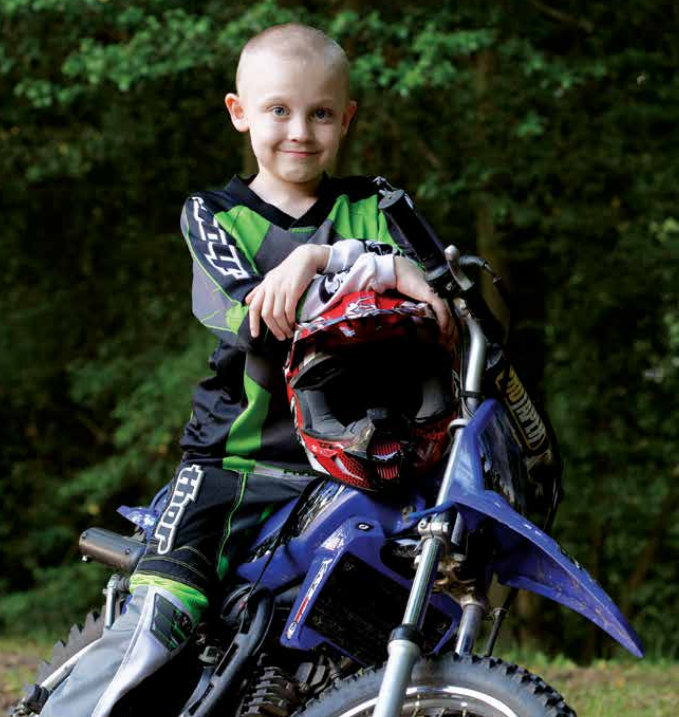 "I get to play all kinds of games," Caleb says, citing as examples Battleship, a game of strategy, and Monkey-in-the-Middle, a game of passing a ball. Games were a part of the regimen that helped him sharpen his motor skills. Alice says that children pose a particular challenge for occupational therapists because they require more patience and more creativity.
While therapists can explain to adults why they might be doing a particular exercise, therapists have to think of many more exercises for children to keep their attention and to make sure they are engaged in tasks that are fun and goal oriented.
"Their attention spans are much shorter, and they just want to have fun," Alice says. "If we can get them to have fun with their exercises and activities, there is a much better chance they will continue to do them when they are home."
Through the recovery process, Caleb soon started climbing the rock wall at home, and by April he started lifting weights. By May, enough sensation had returned to his hand that he was able to hold on to the handlebars of his BMX bike, which he likes to ride along the trails on his family's land. He started racing again in Milford on May 16. He also returned to taking part in 5K races.
"It has been a long road," Caleb's mother Allison says. "It is hard for him to understand, but he tries so hard to do what he is supposed to do in order to get better."
Occupational therapy, the specialty that helps patients improve fine motor skills so that they can return to their normal activities made a difference for Caleb. He has learned again how to use his hand and his fingers. The therapy has improved the strength and feeling in the nerves and tissues that were affected in the accident.