Beebe's Population Health Department supports our charitable mission to encourage healthy living and prevent illness among residents and visitors to our community. Beebe provides a range of free health screenings throughout our community, including blood pressure, cholesterol, osteoporosis, and skin cancer screenings. To schedule screenings for your group or event, please contact Beebe Healthcare's Population Health Department at (302) 645-3337.
Listed below are some of the ways Beebe is serving the community.
View the  2019 Community Needs Assessment update. 
Free Screenings (Calendar)
CAREs program - a transitional care program in which specialized medical professionals assist people with chronic illnesses in learning how to manage their medical conditions so that they can stay at home and be as healthy as they can be.
As part of working to improve your health, Beebe Healthcare and Beebe Medical Group offer the Advanced Care Clinic where patients who have been discharged from the hospital and need follow-up within 7-10 days can see a care provider if they cannot get into another practice. 
Know Where To Go: Have questions about whether to go to the Emergency Department or a Walk-In? Looking for resources for a current patient? Start here.
Rita Karapurkar Williams, MA, CHES Health Coach
Rita is a certified Wellness Inventory Coach and has completed certificate programs in Integrative Health and Lifestyle, and mindfulness curriculm training.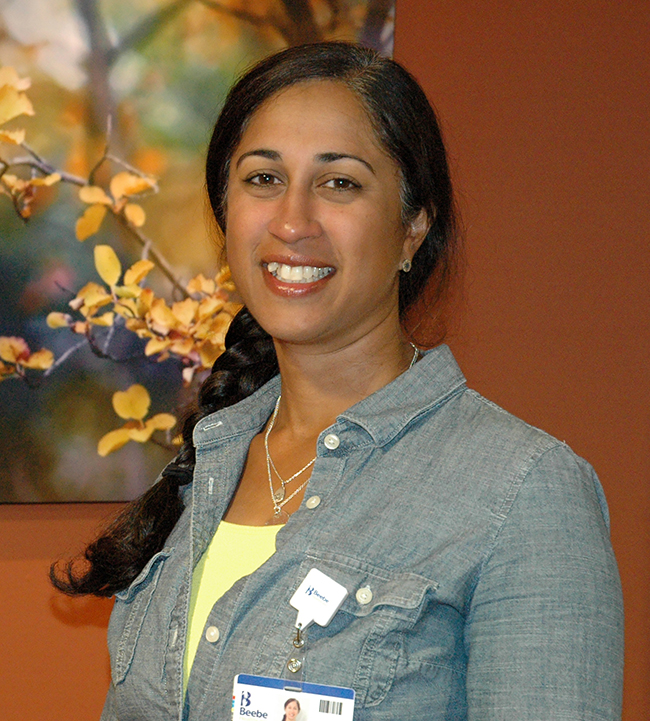 Rita Karapurkar Williams is a Health Coach at Beebe Healthcare. As a Health Coach, she partners with individuals to foster positive behaviors and help them reach their health goals. She is also instrumental in planning, developing and implementing the Wellness program.
With years of experience developing patient-centered health education programs, she strongly believes that for people to get well or stay well, they need education (knowledge + skills) and tools that empower and engage them to take an active role in their health. Healthy behaviors is a way of life. And, it is not one-size-fits-all; individuals are at the center of their own health, with different values, goals, and needs.
Rita holds a master's in Health Education from Teacher's College, Columbia University and she is a certified health education specialist (CHES). In addition, she has completed a certificate program in Integrative Health and Lifestyle program from the Arizona Center for Integrative Medicine and is a Certified Wellness Inventory Coach through Well People.
Rita is also a founding member of Minds Over Matter Initiative, LLC, a local organization focused on delivering mindfulness training to students, educators, families and community members throughout Delmarva. To support the Initiative, Rita completed the Mindful Schools Foundations course and Curriculum Training certificate program. She is always growing and learning, personally and professionally!
Call Rita to schedule a coaching session: (302) 217-3000.