An exclusive event for Beebe's GIVING HANDS SOCIETY members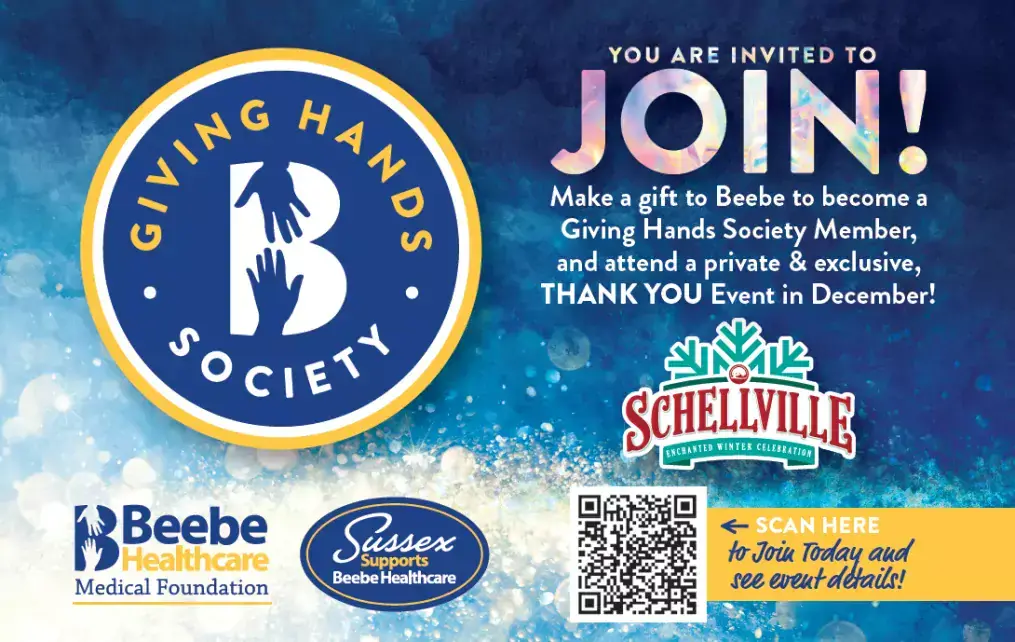 Beebe Medical Foundation is proud to sponsor the GIVING HANDS SOCIETY @ SCHELLVILLE event.
To celebrate YOU - Beebe Team Members who donate back to support Beebe Healthcare - Beebe Medical Foundation welcomes you and up to 3 guests (total of FOUR tickets) to enjoy SCHELLVILLE ENCHANTED WINTER CELEBRATION for 2023.
Exclusive to GIVING HANDS SOCIETY MEMBERS and 3 of their guests, this evening will include all of the enchantment of Schellville's Winter Celebration PLUS ice skating, entertainment by Bobby Lee Jones, Mr. and Mrs. Santa Claus, holiday balloon twisting and a hospitality tent where Beebe leadership will greet you with a special treat.
Open for self-pay eats and drinks will be food trucks "Pretzelvania", "SmashMouth Burgers", and "DaNizza Pizza". Schellville's "Starboard Bar" will also be open for self-pay.
Registration and the event Waiver/Release (required by SCHELLVILLE) is below. Once a registrant is confirmed as a member, the number of tickets selected will be mailed via USPS to the address provided by the Giving Hands Society member. These tickets are required to enter the event on December 13th.
****By registering below, you agree to the following SCHELLVILLE WAIVER/RELEASE****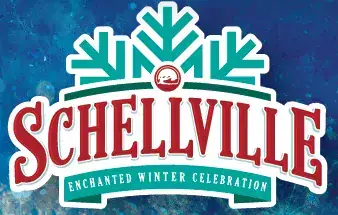 =========================================================================
SCHELLVILLE SIGN-IN & WAIVER/RELEASE
- In consideration of my participation in Schellville (the "Event"), I hereby waive and forever release any and all claims, demands, injuries, damages, actions, or causes of action that I may have against Schell Brothers LLC, Schell Brothers Foundation, Inc. and Tanger Outlets Rehoboth Beach (the "Hosts"), any of the Vendors (the "Vendors"), any of the Hosts' or Vendors' directors, officers, members, employees, agents, affiliates, successors, and assigns (collectively, the "Released Parties") for any and all injuries to me or my personal property arising in any way from the Event, including but not limited to injuries caused by the negligent act or omission of any Released Party. This waiver and release includes all injuries and/or damages suffered by me before, during, or after the Event.  I further agree to defend, indemnify, and hold harmless the Released Parties from and against any and all claims, demands, injuries, damages, actions, or causes of action made by any third party arising in any way from the Event.  I certify that I am in proper condition to participate in this Event, and I understand the Event involves risks that can range from minor injuries to major injuries including death.  I further understand that these risks may be caused in whole or in part by my own actions or omissions, the actions or omissions of others, or the acts or omissions, negligent or otherwise, of the Released Parties.   I hereby agree to accept any and all risks of property damage, injury, illness, or death arising in any way from the Event.  I recognize, intend, and understand that this waiver and release is binding on my heirs, executors, administrators, and assigns.
- Further, I grant permission to the Hosts to use my name, voice, and images of myself in any photographs, videos, websites, social media, or other publications of this Event for legitimate purposes.
- To enter Schellville, a ticket or reservation is required. Tickets and reservations are limited and subject to capacity, availability and restrictions.
-Reservations and tickets are void if transferred or sold and have no cash value. Unused reservations and tickets expire at the end of the day, are forfeited and will not be replaced.
-The Hosts reserve the right to cancel or reschedule any reservation or ticket, at any time and for any reason, including but not limited to, changes in capacity or capacity limitations or park closure, without liability. Schellville admission is not guaranteed.
Certain attractions, experiences, and other offerings may be modified or unavailable, have limited capacity, and may be subject to limited availability or closure. Offerings are not guaranteed.
================================================================================================