Beebe Vascular: Advanced Treatment for Your Vein Health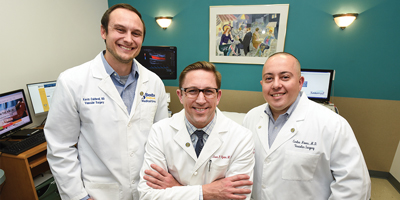 Not only does Beebe Vascular boast the only accredited vein center in Delaware, it's coupled with a care team that makes sure each patient's vein concerns are treated and resolved compassionately and efficiently.
Accreditation is the gold standard for vein centers, and achieving it means that Beebe's Vein Center has demonstrated a commitment to quality patient care in vein treatment and management. Through accreditation, Beebe Vein Center has proven to be a dedicated team that achieves excellent results.
The care team is led by board-certified vascular surgeons Sean Ryan, MD, and Carlos Neves, MD, and board-eligible vascular surgeon Kevin Caldwell, MD, who joined the practice in the past year.
Free monthly screening sessions include an educational presentation, allowing participants to ask questions. The doctors, along with Beverly Wells, NP, meet regularly with patients to talk about the variety of illnesses and issues that can affect our veins.
"Often, patients will have noticed leg pain or fatigue, but they may never have associated those issues with their veins," Dr. Ryan said. "We don't really think about our veins until we have a problem or until you come to a screening and learn there is an issue."
Common risk factors for vein disease include:
Age and family history

Females are often at more risk for vein issues both/

during pregnancy and in later years

Obesity or being overweight

Standing or sitting for long periods of time.
"If you experience swelling, aching or changes in your skin color, you should talk to your doctor or call us to set up a consultation," said Dr. Neves.
The vascular surgeons also perform complex vascular procedures.
Construction is ongoing at the Margaret H. Rollins Lewes Campus for a new hybrid operating room – the first of its kind in Sussex County. A hybrid operating room gives the surgeons, nurses, anesthesiologists, radiology technicians and other specialists the ability to collaborate seamlessly together with more advanced technology during surgery.
Complex imaging equipment allows surgeons to have real-time access and visibility of peripheral arteries within the body while they are working to repair or bypass blockages.
This new surgical theater will provide patients with the highest-quality care, close to home.
These projects and many of the projects at Beebe Healthcare are made possible by generous donations from the community through Beebe Medical Foundation. To learn more about donating call
302-644-2900
.
BEEBE VASCULAR SERVICES
302-644-4954
| Offices in Lewes, Georgetown, Milford, Millsboro and Millville
---