Barry Hamp Named Executive Director of Beebe Healthcare's Tunnell Cancer Center
Beebe Healthcare is proud to announce that Barry Hamp, BS, MBA, has been named executive director of Beebe Healthcare's Oncology Service Line at Tunnell Cancer Center. Mr. Hamp previously served as the interim executive director.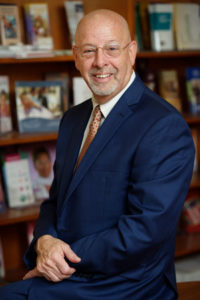 Mr. Hamp has extensive senior-level administrative and management expertise in clinical and non-clinical operations. He has experience with physician relations and integration, design and development of hospital construction and existing space re-design. Mr. Hamp previously served as the interim director of Oncology Services at Northern Arizona Healthcare. As the senior vice president at Cancer Treatment Centers of America, Mr. Hamp assisted in facility design and operational plan for a new hospital; managed physician recruitment and relations, budget development and compliance; and implemented and oversaw the patient satisfaction program. Mr. Hamp earned his Masters of Business Administration from Bloomsburg University, and his Bachelors of Science from San Diego State University.
Mr. Hamp has gained the respect of the staff and patients as a thoughtful, compassionate, and forward-thinking leader with an authentic dedication to those he serves.
"Barry has done a fantastic job in the interim position, and will bring his years of experience in oncology as well as service line management to the role," said Rick Schaffner, Beebe Healthcare's Executive Vice President and COO. "We are thrilled he has accepted this role."
"I am thrilled for this opportunity to lead and work alongside such a wonderful, highly-skilled, compassionate team here at Tunnell Cancer Center; the patients and their families are of our highest focus and concern, ensuring the best customer service and treatment possible that we can provide. In addition, it is an exciting time to be at Beebe, and specifically Tunnell, as we look to expand our facilities to the south coastal region of our county to make our services more accessible," said Barry Hamp, BS, MBA, Executive Director of Beebe Healthcare's Tunnell Cancer Center.
Photo Caption: Headshot of Barry Hamp, BS, MBA (Taken by Scott Nathan)
About Tunnell Cancer Center
Beebe Healthcare established Tunnell Cancer Center in 1995. It has received the Commission on Cancer's highest accreditation with commendation as a comprehensive community cancer center. Its clinical specialties are medical oncology/hematology and radiation oncology. It also offers a multidisciplinary approach for planning all cancer treatment. Nearly 300 patients visit the center each day.
Beebe Healthcare is a not-for-profit community healthcare system with a charitable mission to encourage healthy living, prevent illness, and restore optimal health for the people residing, working, or visiting in the communities we serve. It offers services throughout Southern Delaware for residents and visitors, including a 210-licensed-bed hospital, a cancer treatment center, home care services, and outpatient facilities providing walk-in care, lab, imaging, and physical rehabilitation services. For more information, please visit us online at www.beebehealthcare.org.
---