Understanding Monoclonal Antibodies and Its Role in COVID-19 Pandemic
Image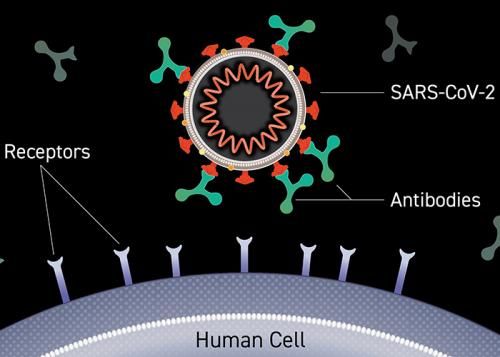 Image of an antibody binding to the surface of a virus,
blocking entry into a human cell.
By William Chasanov, DO, MBA
Monoclonal antibody treatment was approved by the United States Food and Drug Administration (FDA) under emergency use authorization as a preventative therapy to help COVID-infected people with severe risks for complications.
Beebe Healthcare was proud to be the first hospital in Delaware to implement monoclonal antibody treatments for patients who were at high-risk for complications in November. Those include patients with certain medical conditions, as well as those who are 65 years of age or older.
Treating with monoclonal antibodies may help shorten the amount of time you are sick from COVID-19 or decrease your chance of needing to be hospitalized because of COVID-19. It is not a cure for COVID-19, but it is another tool that may help prevent severe illness and death as we wait for vaccine supply to increase. 
How it works
Patients receive one dose of this treatment through an intravenous (IV) infusion, which is done during an appointment. After the infusion, the patient is monitored for at least an additional hour. After this monitoring, the patient can return home. The infusion treatment lasts about two to three hours. 
Monoclonal antibodies are special proteins that attach themselves to the SARS-CoV-2 virus (the virus that causes COVID-19). Once attached, the virus is no longer able to attach itself to human cells hopefully stopping the virus from further infecting other cells and preventing the infection from progressing further.
To be as effective as possible, the antibody treatment must be given early. It is important for patients to work closely with their providers to see if they are eligible for monoclonal antibody treatment. As soon as it is determined by the provider that the patient might be a candidate for this treatment, the provider's office will initiate the next steps to get scheduled.
Providers will need to identify high-risk patients and refer them for antibody treatment within the first seven to 10 days of illness – even if the patient is only experiencing mild symptoms at first. Again, this treatment is only for those who are at high-risk of developing life-threatening symptoms due to COVID-19 and there are specific inclusion criteria for this medication. 
To qualify, you must:
Have tested positive for COVID-19 within the last 5 days with either a PCR nasal swab diagnostic or rapid antigen saliva test.
Have symptoms that are mild to moderate and have started within the last 10 days.
Weigh at least 88 pounds and also meet at least one of the following criteria:

Body Mass Index ≥35.
Chronic kidney disease.
Diabetes.
Immunosuppressive disease (examples may include leukemia, rheumatoid arthritis or multiple sclerosis).
Receiving immunosuppressive treatment.

Age ≥ 65 years.
Age ≥ 55 years AND have any of the following: cardiovascular disease, hypertension, COPD/other chronic respiratory disease.
Adolescents (age 12-17 years) must meet at least one of these criteria to qualify:
Body Mass Index ≥85th percentile for age/gender.
Sickle cell disease.
Congenital (from birth) or acquired heart disease.
Neurodevelopmental disorders (for example: cerebral palsy).
Medical-related technological gastronomy, or positive pressure ventilation (not related to COVID-19).
Asthma, reactive airway, or other chronic respiratory disease that requires daily medication for control.
This investigational treatment is not authorized for use in patients:
Who are hospitalized due to COVID-19; or
Who need oxygen therapy due to COVID-19; or
Who need increased oxygen due to COVID-19 or who are on chronic oxygen therapy due to a non-COVID-19 health problem.
To understand if you are a candidate for this treatment, please contact your physician directly because a physician referral is required. 
William Chasanov, DO, is board certified in internal medicine and infectious disease. He serves as the Clinical Transformation Officer at Beebe Healthcare. He also sees patients in the hospital at the Margaret H. Rollins Lewes Campus and at Beebe Infectious Disease and Travel Medicine. He received his medical degree from Philadelphia College of Osteopathic Medicine in 2007, and completed his internal medicine residency at Christiana Care Health System in 2010. He received his MBA from University of Delaware in 2011. Dr. Chasanov completed an infectious disease fellowship at Cooper University Hospital, in Camden, New Jersey, in 2015.
---