Dr. Waked: Beebe Center for Weight Loss Surgery Guides Your Journey to a Healthier Life
Image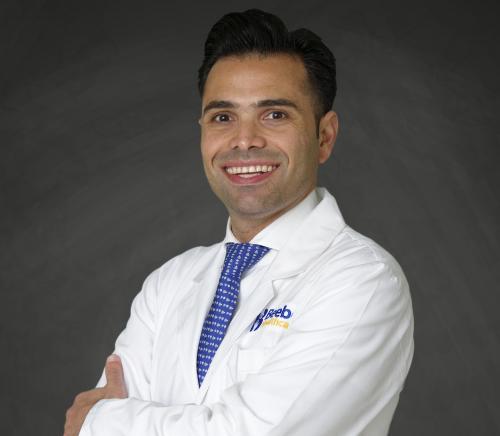 Often my patients have dealt with weight bias and are told that their weight gain is due to poor eating habits and lack of exercise and willpower.
However, weight issues are much more complicated than that: There are biological changes in our brain and body that will fight us to keep the weight off despite adopting the best diet and exercise programs.
Our team at the Beebe Center for Weight Loss Surgery offers a holistic approach to help people improve their health and achieve sustainable weight loss through safe and effective weight loss surgery.  We strongly believe in providing a good support system to patients throughout their journey with different activities, including online and in-person support groups. 
My care philosophy has always been to put patients first. I believe nowadays weight loss surgery is the best tool to offer people a healthier way out for their weight related diseases such as fatigue, diabetes, high blood pressure, sleep apnea, high cholesterol, joint pain, and heart disease.
What is most fulfilling for me is to see patients able to do things that they were not able to do before due their weight related limitations. At the Beebe Center for Weight Loss Surgery, we make sure patients are treated in a bias free environment as we help them navigate through the difficult decision to pursue surgery.
To find out if you are a candidate for weight loss surgery, call 302-260-7360.
More about the team
Dr. Tarek Waked, Board Certified General and Bariatric Surgeon, joined the health system to lead the Beebe Center for Weight Loss Surgery. Beebe offers a bariatric coordinator and Kim Hyatt, a registered dietitian, to guide patients on their weight loss journey.
Dr. Waked, FACS, FASMBS, completed his residency in general surgery at INOVA Fairfax Hospital in Virginia. During his years of training, Dr. Waked received multiple awards for his skills and knowledge in surgery. Following his training in general surgery, Dr. Waked joined the Mayo Clinic in Minnesota where he completed a fellowship in minimally invasive and bariatric surgery.
He sees patients at the Beebe Center for Weight Loss Surgery located in Georgetown at 21635 Biden Avenue, Suite 203, Georgetown, DE 19947. He will perform bariatric and general surgery. To make an appointment, please call 302-260-7360. 
To learn more about the Beebe Center for Weight Loss Surgery and whether weight loss surgery is an option for you, visit www.beebehealthcare.org/services/surgery/bariatric-surgery.
---