What to Expect at a Free Vein Screening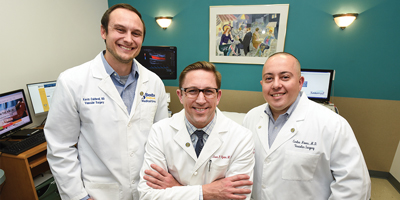 You've been feeling leg pain and even fatigue in your legs for some time. However, you've never had your veins checked out.
Beebe vein specialists at Beebe Vascular offer free vein screenings each month. Learn more about what you can expect at a screening.
Call to make an appointment: (302) 703-9300.
Meet the Vein Center Team
At Beebe Vein Center, vascular surgeons work with vein specialists who provide valuable education about your vascular or circulatory system.
When you register and attend a free Vein Screening at Beebe Vascular in Lewes, you will first hear from a vascular specialist who will explain the basics of vein health and issues that can occur because of vascular disease or venous insufficiency (decreased blood circulation).
Learn About Your Vein Health
Following the informational talk, you will then have a one-on-one vein consultation with a vein specialist which may include an ultrasound of your veins.
The results will be shared with you following your ultrasound so you have an idea of any issues that might have been found. If there are areas of concern, your vein specialist will discuss treatment options.
The next step is up to you. If you are not ready to have surgery or a vein procedure, your vein specialist will discuss non-surgical options such as wearing compression stockings, walking more regularly, and reducing salt in your diet.
The vein specialists at Beebe Vascular work with you every step of the way. They are your partners in your health journey.
Each of the vascular surgeons is available to answer all of your questions – even giving out their cell phone numbers for after-hours calls.
Call today to register for an upcoming vein screening: (302) 703-9300.
---