The Next Generation of Clinical Innovation
This article first appeared in the Spring 2019 Beacon - the Innovation issue. Read more from the issue here.
Healthcare may not be the first industry to come to mind when you picture the top creative thinkers and innovators of our time. However, creativity and innovation are both crucial to the ways Beebe Healthcare is planning for the patient care of the future.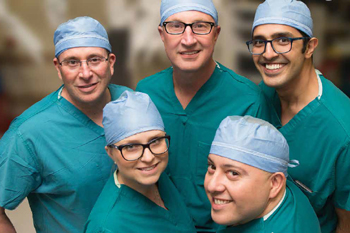 In the past year, Beebe launched its Center for Robotic Surgery with the addition of Kurt Wehberg, MD, board certified cardiothoracic surgeon specializing in robotically assisted surgery.
In addition to practicing medicine with Beebe Cardiothoracic Surgery, Dr. Wehberg is also Vice President of Clinical Innovation.
"In my role at Beebe, I am working with the clinical teams to truly focus on innovation—in all meanings of the word. This starts from the patient experience, from the moment a patient walks in the door, and goes throughout the organization to include state-of-the-art techniques, procedures, and skills," Dr. Wehberg says. "We are building on a Culture of Excellence. This is the standard we are setting for all of Beebe's services. And, we hope the work being done here, in our community, will soon disseminate to the entire state to promote innovation and the best standards for our patients."
CARDIOTHORACIC SURGERY
Beebe Cardiothoracic Surgery has launched new programs for thoracic (lung) patients, including weekly Pulmonary Nodule Clinics and teleconsulting, which allows a multidisciplinary team of physicians and specialists to discuss the best treatment plan for each patient.
"By bringing everyone together, we really get the best outcomes for our patients," says Dr. Wehberg. "Utilizing the da Vinci Xi Robotic Surgical System—the latest advancement in robotic surgery—we are then able to get the patient in for surgery and back to their lives, often in about 24 hours."
Patients like Charley Senick of Millsboro can testify to the ease and success of Beebe's Center for Robotic Surgery.
"It was incredible," Charley says. "I went in for surgery Thursday morning, was drinking coffee and sitting in a chair by the next morning, and in the car headed home by lunch on Friday. Beebe's Center for Robotic Surgery is truly innovation at work."
Read Charley's story online at www.beebehealthcare.org/charley
.
Beebe Cardiothoracic Surgery, with long-time board certified cardiothoracic surgeon M.L. Ray Kuretu, MD, has expanded to include Mudiwa Munyikwa, MD, board certified general surgeon specializing in thoracic procedures, Edward Stephenson, Jr., MD, board certified cardiothoracic surgeon specializing in cardiac surgery, and a host of physician assistants, including Alice Isidro, PA-C, the thoracic oncology coordinator.
"This is a great team to work with here at Beebe because everyone is completely dedicated to the patients. It's family caring for family, and we aim to be the best while still treating you as family," Dr. Wehberg says.
ROBOTIC GYNECOLOGIC SURGERY
This year, Beebe's Center for Robotic Surgery added gynecologic surgery to its offerings with the certification of Katrin Arnolds, MD, and Cathleen Doane-Wilson, MD. Both Dr. Arnolds and Dr. Doane-Wilson performed robotically assisted gynecologic surgeries prior to joining Beebe and were re-certified through Beebe's program.
"Robotically assisted laparoscopy is extremely precise and elegant. The surgical platform eliminates tremor and the degree of motion achieved is higher (540 degrees of rotation with the da Vinci EndoWrist),
compared to the human hand," says Dr. Arnolds.
"Operating with the da Vinci platform enhances a surgeon's touch and eliminates unnecessary moves. It has the ability to do the smallest incisions and a wide range of motion—it's only possible with this technology," she says.
Learn more about robotic gynecologic surgery.
BARIATRIC & GENERAL SURGERY
Michael Sofronski, MD, was interested in joining the Center for Robotic Surgery as soon as he learned about it. As a board certified general surgeon specializing in bariatric surgery, Dr. Sofronski knew robotically assisted surgery was a great option for his patients.
"I was excited to learn the robotics system because it is an excellent platform for bariatric surgery," Dr. Sofronski says. "I now perform all of my elective bariatric and general surgery cases robotically. This technology will become the standard of care."
General surgeons perform cholecystectomies, hernia repair, colon surgery, and gall bladder surgery robotically. As a bariatric surgeon, Sofronski also performs gastric bypass, sleeve gastrectomy, and lap band removal surgeries using the da Vinci Xi Robotic System.
Since starting robotic procedures here, Dr. Sofronski reports that patients now only need to stay in the hospital for about 30 hours, a 13-hour reduction in the length of stay. In addition to allowing patients to go home sooner, this also reduces the risk of infection from being in the hospital.
"Innovation to me means thinking ahead and recognizing where a technological advancement will occur. Beebe is a very forward-thinking organization and that creativity and innovation establishes our health system as a leader in the delivery of care to our patients," Dr. Sofronski says. "I continue to look toward the future and am excited to roll out single incision robotic surgeries once the technology is available."
VASCULAR SURGERY
Beebe Healthcare is Creating the Next Generation of Care, starting with the ongoing construction at the Margaret H. Rollins Lewes Campus. Steel beams are now rising from the ground near our historic façade to craft the future home of a hybrid operating room and additional cardiac cath lab and electrophysiology lab space.
Soon, expert vascular surgeons, including Kevin Caldwell, MD, Carlos Neves, MD, and Sean Ryan, MD, will begin performing the first procedures in this high-tech operating theater.
"A hybrid operating room will let us perform many facets of patient care all in one state-of-the-art operating theater," says Dr. Neves. Instead of a patient having one procedure on one day, then coming back the next week for another test or procedure, everything can be done at once in one operating room with the best imaging technology available.
"At Beebe, the care providers and team members work as a family to provide the best care for our patients," says Dr. Neves. "We want our patients and community to know that they are getting the best care, care we would want our own family members to have. With all the innovation, we are able to provide minimally invasive procedures available in big cities here in our local community. I hope that our patients
can appreciate the effort, dedication, time, and teamwork that goes into patient care here at Beebe."
CARDIAC ELECTROPHYSIOLOGY CARDIOLOGY
Who knew that innovation could fit in the palm of your hand?
Malick Islam, MD, is Beebe's very own heart rhythm specialist. He is board certified in electrophysiology, cardiology, and internal medicine. Beebe's cardiac cath lab and electrophysiology lab are utilizing the latest—and perhaps smallest—advances in heart innovations today.
"Electrophysiology is one of the most technologically advanced and innovative fields in medicine. My goal is to provide our patients with the latest available technologies," says Dr. Islam.
The most recent addition to Beebe's state of the art electrophysiology program is the WATCHMAN™ device, which has been created to enable patients with atrial fibrillation (Afib) to have a life free from blood thinners. "I've seen the WATCHMAN drastically improve my patients' quality of life and give them a newfound peace of mind," Dr. Islam says. "Another device I am excited to bring to Beebe is the Micra™ leadless pacemaker, which is the size of a prenatal vitamin. Once implanted in the heart it has a battery life of up to 12 years."
As if these two micro-devices weren't enough, Beebe is now also using the HD Grid Mapping Catheter to create high-density electrophysiologic maps for abnormal heart rhythms. This enables the team to create a more detailed map of the heart arrhythmia, which significantly improves their ability to diagnose and treat the heart rhythm issue. Beebe is one of the first centers on the East Coast to start using this catheter system.
Questions about these services or other Beebe services? Our team of Nurse Navigators can help.
Contact them online.
---