'A Guardian Angel': Spine surgery on Christmas Eve at Beebe Gives Man His Life Back
Joe Adelmann had no idea the journey he began on a night in May 2018.
Ocean City's summer season was just beginning for the lifelong plumber, who works at all of the town's well-known Old Pro miniature golf courses. Joe knew it was going to be another busy summer, but a late-night scooter crash changed the course of his summer and his life.
After the crash, Joe was just happy to stand up. He didn't know the extent of the damage sustained to the vertebrae in his neck that would nearly paralyze him six months later. Joe is thankful that he found Abimbola Afolabi, MD, of Orthopaedic Associates of Southern Delaware and had surgeries to help him regain his mobility at Beebe Healthcare.
"I've got nothing but good things to say about Dr. Afolabi," Joe says. "She's my guardian angel and just happened to be working on Christmas Eve."
But Joe would not meet Dr. Afolabi until nearly seven months after the crash. During the recuperation, Joe finally decided to have surgery on his hip that was getting more and more painful because of arthritis. The surgery was scheduled for November, but Joe's overall conditioned worsened.
His hands started to go numb – a feeling that started to spread throughout his body as the summer days dragged on into fall. It wasn't until a MRI after the hip surgery that doctors realized what was going on: "When they read that MRI, they instantly recommended Dr. Afolabi," Joe said.
Joe was in a wheelchair in December when he visited Dr. Afolabi. She diagnosed him with cervical myelothapy, which is most common in middle-aged people and seniors, and it's often caused by the wear and tear of aging. But it can be also be caused by traumatic events.
When a patient has a significant narrowing of the spinal cord due to an injury, it disrupts the nerves that branch out to the area in the arms and legs that control strength, Dr. Afolabi said.
When Joe came into the office, he was declining pretty fast and needed surgery urgently, she said.
"I saw Joe just before Christmas, and his condition was so severe – I moved plans around to operate as quickly as possible," Dr. Afolabi said. "Sometimes with the spine, time is money. So with him, the Beebe Healthcare team stood up to this challenge so close to the holiday because it was what was best for Joe."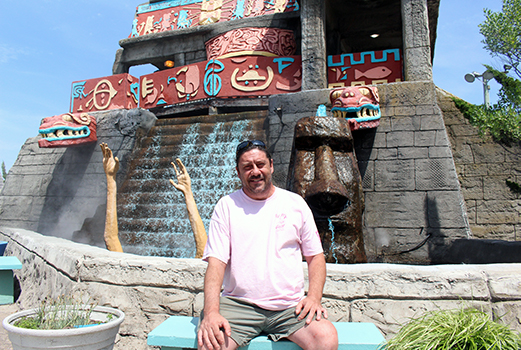 At this time, Joe felt helpless. He had now seen the damage to his spine and felt like surgery was the only option.
"I just had no idea," he said. "I was in shock in that point. When I could see on that computer screen how messed up I was, I didn't view it as a choice. I could either do this surgery or spend the rest of my life in a wheelchair or worse."
Joe was admitted Dec. 21 and Dr. Afolabi performed two planned staged surgeries; one on Dec. 22 to decompress the spinal cord from the front of the neck, and the next on Christmas Eve to further decompress and stabilize the spine from the back of the neck.
The successful surgeries already have Joe back on his feet and back to work in April. He walks with a cane and is on light duty, but he still is amazed on how quickly things have come back.
"That's what I live for – the quality of life-changing surgeries that we do to give our patients their quality life back," Dr. Afolabi said.
Joe is just happy to be back at work, and even more thankful to have the same job.
His manager, Mike Hover, took him to a lot of the appointments and made sure he had the time off he needed even when it turned from a hip surgery to spine.
"We've been in business for 50 years," Hover said. "It's just a family-owned business and we run it like a family. Everyone just tries to pull together to help everyone."
Joe said they are the best people to work for, and he is eternally grateful to Dr. Afolabi and the Beebe Healthcare team who assisted in his treatments.
"I'm a walking miracle," Joe says. "To be this far along after six months is nothing short of a miracle for me."
Dr. Afolabi is a fellowship trained orthopaedic spine surgeon, specializing in non-operative management as well as surgical treatment of different spinal disorders. She graduated magna cum laude with a biology degree from the University of North Carolina at Greensboro, then attended Rutgers New Jersey Medical School, and graduated in the top fifth of her class. She completed her orthopaedic surgery residency at University of Maryland/Adams Cowley Shock Trauma Center in Baltimore, and a fellowship in spine surgery at Hospital for Special Surgery/ Weil Cornell Medical College/ New York-Presbyterian Hospital, working with many of the nation's leading spine surgeons.
---