Thomas Pierce: My Life with Skin Cancer
Image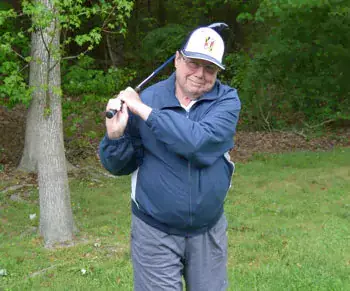 An avid outdoorsman and golfer, Tom Pierce has had multiple spots removed on his skin due to basal cell and squamous skin cancers.
When he noticed an itchy spot on his back that seemed to have a lump under the skin, Tom immediately called Dr. Daniel Cuozzo, Board Certified Dermatologist with Beebe Center for Dermatology And Dermatologic Surgery.
"I've been a patient of Dr. Cuozzo's for years and was glad he was able to get me right in," Tom said.
He was even more grateful when Dr. Cuozzo referred him for a biopsy that showed the mass was Stage 2 melanoma. The mass was removed by Dr. Erik Stancofski, leaving a 5-inch suture.
"It was really a scary point in my life. I was used to having small spots removed, but this was serious. Stage 2 melanoma can be pretty serious, but I was happy that everyone at Beebe worked to help me get it taken care of right away," Tom said.
The Beebe team also checked Tom's lymph nodes to see if the cancer had spread. Thankfully, all of his lymph nodes were cancer free. He now sees Dr. Carmen Pisc at Tunnell Cancer Center every three months to check his back and make sure the melanoma is gone.
However, Tom, 78, knows that he will likely continue to have smaller spots removed. Just a couple months after removal of the melanoma, Dr. Cuozzo and Dr. Justin Elder, removed a spot from Tom's face using the Mohs surgery technique.
"Mohs surgery utilizes a targeted approach to treating skin cancer," said Dr. Cuozzo. "During a Mohs procedure, I remove thin layers of skin containing cancer. After each layer is removed, I examine it to determine if there is cancer. I continue removing the layers until only cancer-free tissue is left."
During Tom's surgery, Dr. Elder, who is Board Certified in Otolaryngology (ENT) and Facial Plastic Surgery, assisted Dr. Cuozzo and closed the incision to prevent scarring.
"I spent so much time outside when I was younger – playing softball, golfing, enjoying nature – and now I am paying for it. We didn't ever use sunscreen then," Tom said. "Now, I am constantly telling my daughter and my grandson to put on sunscreen, to wear a hat outside, and to stay out of the sun when possible. I don't want them to be in the situation I am in."
Out on the golf course, Tom still enjoys driving the ball toward the hole, but today he wears a hat and a light windbreaker to protect his skin. And, he always wears at least SPF 30 on the course.
"I was first diagnosed with skin cancer when I was 30, so I have been going through this for a long time," Tom said. "I would tell people to start protecting their skin now. Don't wait. And, if you have a spot you are concerned about, get it checked out."
If you have a spot you are concerned about, talk to your primary care physician or find a dermatologist via our Find A Doc database.
---