Meet Dr. Kurt Wehberg and PA-C Ty Huskey of Beebe's Center for Robotic Surgery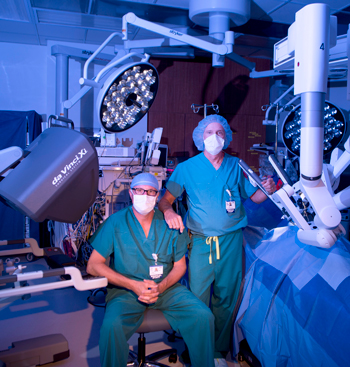 Kurt Wehberg, MD, Beebe's newest cardiothoracic surgeon, Co-Chief of Cardiothoracic Surgery, Chief of Robotics, and Vice President of Clinical Innovation, says it was his immediate connection with President and CEO Jeffrey Fried that drew him to Beebe and the coastal Delaware communities we serve. 
"I consider Mr. Fried to be my mentor—I've never really had a mentor," Dr. Wehberg says. "We connected immediately. Part of it is our love of basketball—even though I am a Duke fan! I truly appreciate his brand of quiet, gentle leadership."
In addition to his connection with Mr. Fried, Dr. Wehberg has been familiar with Beebe and the community for more than 20 years as a surgeon practicing at Peninsula Regional Medical Center. 
"When the opportunity for leadership at Beebe came up, I just felt it was the right time for me to relocate my life here," he says.
Upon joining Beebe, Dr. Wehberg will be performing traditional cardiac surgery and robotically assisted thoracic surgery. Dr. Wehberg and his family previously lived in Salisbury, Md., but they are excited to become Lewes residents. "Knowing that Beebe has a great team really made it an easy decision to pick up my whole world and move it here," Dr. Wehberg says.
Creating a Family Culture
As you might guess, building a new robotic surgery program from the ground up is not a simple task, but Dr. Wehberg's commitment to family carries over to his work, making the job easier. Dr. Wehberg feels lucky to have his long-time coworker, Ty Huskey, PA-C, supporting him in his new office. "I have worked with thousands of PAs in my career, and Ty is the greatest. He's a great leader and he and I believe in creating a family culture," says Dr. Wehberg.
Ty was planning to retire after 35 years at PRMC, but when Dr. Wehberg approached him with the vision he and Beebe had for a Center for Robotic Surgery,  it was an opportunity that Ty said made putting retirement on hold easy. He was involved in the development 
of the robotic thoracic surgery program at PRMC with Dr. Wehberg more than 10 years ago and says they have developed a special working relationship.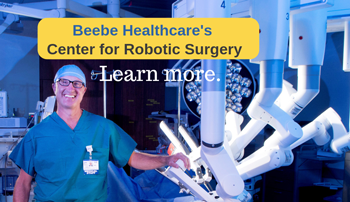 "I am grateful to have a part in bringing this new technology to Beebe and the surrounding area," Ty said. "I appreciate how much the nurses, staff, and administration at Beebe have made this such a smooth transition ... it makes this really feel like home."
When Dr. Wehberg and Ty talk about the family culture they're hoping to cultivate at work, both of their faces light up. It's easy to tell this is a concept they both believe in greatly. "What does it mean to have a family culture? It means everyone is equal. When you have a family meeting, no matter who has what job, everyone has an equal say at the table," Dr. Wehberg said. "It's something that Ty and I really built in our last roles and knowing some of the team already at Beebe, I think it is going to be something easy to build here as well. Everyone at Beebe is already like family—we have been met with such kindness and there is an excitement for education and innovation already inherent here."
A Mission for Mentorship
In addition to robotic surgery, Dr. Wehberg's other true calling is coaching basketball. An avid Duke fan, Dr. Wehberg has enjoyed coaching middle school basketball during the last several years. "My players find it funny that at the first practice of the season, we don't focus on playing at all. We just focus on tying our shoes," Dr. Wehberg says. "Tying your shoes correctly is very important—and we have fewer ankle injuries because they know how to do it."
As a coach, Dr. Wehberg focuses on the fundamentals of human interaction. Middle schoolers can be considered a rough bunch, but Dr. Wehberg says they mostly just want to know who they are and how they fit in with their groups.
"We learn how to talk to adults, make eye contact, and give a good handshake, and we learn to interact as a team in a way that is respectful," Dr. Wehberg said. "Middle school is a great time for these young men to learn skills for life. We talk about mental toughness, integrity, and trust."
His best advice for everyone: "No matter what happens in the game, you shake hands at the end."
This article originally appeared in the Summer 2018 Beacon - Men's Health magazine.