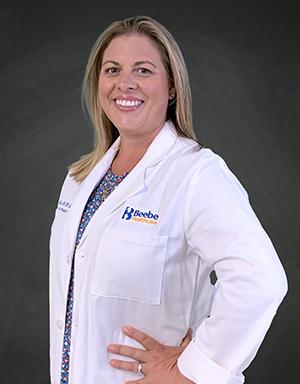 Meet Carrie Snyder, Beebe Nurse Navigator
Carrie Snyder, MSN, APRN, FNP-BC, is the Nurse Navigator, providing residents and visitors with answers to questions about women's health, orthopaedics, and cardiac and vascular care. She can also discuss health and wellness topics, as well as help you locate the appropriate doctor or healthcare provider.
Have questions about your health? Call Carrie:
Women's Health: (844) 316-3330 or email [email protected]
Cardiac & Vascular Services: (844) 316-3334 or email [email protected]
Orthopaedic Services: (844) 316-3332 or email [email protected]
Or fill out the Nurse Navigator Form.
ABOUT CARRIE
Carrie started her nursing career as a Registered Nurse in the Intensive Care Unit at Beebe in 2004 after graduating with her nursing degree from the University of Delaware. She earned her Masters of Science degree in Nursing from Wilmington University in 2008 and was board certified by the American Nurses Credentialing Center (ANCC) as a Family Nurse Practitioner. At that time, she began working as a Family Nurse Practitioner at Beacon Family Practice and Beacon Pediatrics providing primary care for adult and pediatric patients. She returned to Beacon Family Practice with Beebe Medical Group in 2015 after spending time working in Walk-In Care. She has worked as the Family Nurse Practitioner and Coordinator of Laurel High School Wellness Center and served on the action committee for Delaware Adolescent Program, Inc. (DAPI) in Sussex County. She has also served as adjunct faculty at Wilmington University in the Family Nurse Practitioner Program.
Carrie grew up in Sussex County and now resides in Millsboro with her husband and two "Beebe Babies."
"As a primary care provider, I understand the daily struggles patients face while trying to access the healthcare system and the services they need," Carrie said. "I hope to be a clinical resource for patients and families and help reduce the burden that illness and healthcare needs can cause. I want to help our community become the healthiest it can be!"