Alina Ferrer Earns National Certification as Healthcare Interpreter in Spanish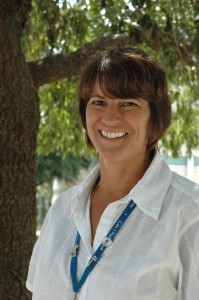 Alina Ferrer
Alina Ferrer, Spanish Language Medical Interpreter at Beebe Medical Center, has been credentialed as a Certified Healthcare Interpreter (CHI™) in Spanish by the Certification Commission for Healthcare Interpreters (CCHI).
The certification means that Alina has critical knowledge and skill in the interpreting of medical information between patients, their families and physicians and other healthcare providers in the Spanish language. She also has gained an in-depth knowledge and understanding of Spanish-speaking cultures.
"This is an important accomplishment," says Ellen Tolbert, Director of Patient Relations for Beebe Medical Center. "We serve a very large Spanish speaking population. The certification reflects the commitment of both Alina and Beebe Medical Center to make sure that our patients and their caregivers understand their medical care and their options so that they are qualified to make the healthcare choices that are best for them."
Alina has been the Spanish Language Medical Interpreter at Beebe Medical Center since 2003, and was the first to hold such a position at a hospital in the state of Delaware. At the time, she completed the "Bridging the Gap" Health Care Interpreter Training, which was the only educational program available to prepare interpreters for the hospital setting.
Alina also co-ordinates the language service for the deaf at Beebe Medical Center, and developed the Spanish-language Patient Safety Satisfaction Survey. Before becoming a Spanish Language Medical Interpreter, Alina worked with patients in a Hospice organization and at Beebe's Tunnell Cancer Center.
Alina holds a master's in social work. In 2011, she was elected as a Director to the national board of the National Council for Interpreters in Healthcare (NCIHC). Alina is a member of Beebe Medical Center's Patient Relation's Department. For more information about the services that Alina offers, or that are available through the Department, please call (302) 645-3300, ext. 5367.
Beebe Medical Center is a not-for-profit community medical center with a charitable mission to encourage healthy living, prevent illness, and restore optimal health with the people residing, working, or visiting in the communities we serve. For more information, please visit us online at www.beebemed.org
---