Beebe Cardiothoracic Surgeon Dr. Kurt Wehberg to Speak at Go Red Luncheon & Fashion Show Sept. 19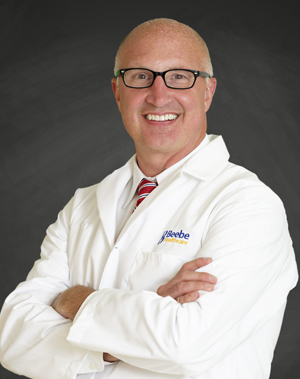 Beebe Healthcare will sponsor the 12th annual Go Red for Women Luncheon and Fashion Show on Wednesday, Sept. 19 with the American Heart Association.
The annual fundraiser will be held at the Clubhouse at Baywood Greens on Route 24.
This year's keynote speaker will be Dr. Kurt Wehberg, MD, Board Certified and Fellowship Trained cardiothoracic surgeon with Beebe Cardiothoracic Surgery. He is the Co-Chief of Cardiothoracic Surgery, the Chief of Robotics, and Vice President of Clinical Innovation. Dr. Wehberg performs both traditional and robotically assisted cardiothoracic surgery.
Dr. Wehberg is helping to develop and build the program for Beebe's Center for Robotic Surgery. Dr. Wehberg has performed more than 500 robotic surgeries over the course of his career.
Dr. Wehberg received his medical degree from Eastern Virginia Medical School in Norfolk, Va., and completed his residency in General Surgery at University of Maryland Medical System. He earned a fellowship in Cardiothoracic Surgery from University of Maryland Medical System. Dr. Wehberg is certified by the American Board of Surgery and the American Board of Thoracic Surgery.
Previous to Beebe, Dr. Wehberg served as the Medical Director of the Thoracic Oncology Program, the Chief of Cardiothoracic Surgery and Director of Robotic Cardiothoracic Surgery at Peninsula Regional Medical Center in Salisbury, Md. He was a founder of both the Thoracic Oncology and Robotic Cardiothoracic Surgery programs and led all three programs to national recognition.
Heart disease is the number one killer of men and women. In the United States, cardiovascular diseases and stroke cause one in three women's deaths each year, according to the American Heart Association.
Go Red for Women is the American Heart Association's national call – for women, by women – to take charge of their health and live stronger, healthier lives.
Doors will open at 10:45 a.m. and lunch will be served at noon. The cost is $30 a person. Proceeds benefit the American Heart Association's Go Red for Women campaign.
Beebe Healthcare's Population Health team will be providing free blood pressure screenings from 10:45 a.m. to 11:45 a.m. for those attending the luncheon.
Co-Chairs of the event are Pat Sandy of the Beebe Medical Center Auxiliary and Lynn Toth, RN, MSN, NP-C, a cardiovascular medical specialist and Chairwoman of the Stroke Program at Beebe Healthcare.
For sponsorship or ticket information, contact Pat Sandy at (302) 236-1537 or email moviestoo@aol.com. Tickets, $30 per person, may be purchased via check, made to the American Heart Association/So DE. They should be sent to: Tracey Gaines-Powell, 106 Bobby's Branch Road, Millsboro, DE 19966. Donations are always welcome.
---