Beebe Healthcare Announces 2019 Nursing Award Recipients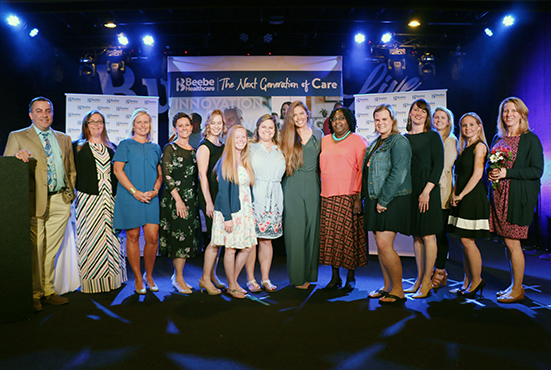 Beebe Healthcare's Nurses Celebrating Nurses Committee presented the 2019 Nursing Excellence Awards in May. This year, there were 39 nominees in seven award categories.
The awards were presented during National Nurses Week at the Rusty Rudder in Dewey Beach.
"Nurses impact patients throughout the entire continuum of care," said Rick Schaffner, RN, Interim CEO, Executive Vice President and COO of Beebe Healthcare. "We are proud to celebrate all of our nurses as they deliver the highest level of quality and patient experience to the people we are privileged to serve."
The evening consisted of guest speakers and award recognition. The main guest speaker was Sally Cohen, a grateful patient.
Ann Sebastian and members of the Village Improvement Association (VIA) of Rehoboth Beach recognized the 2018 VIA Scholarship recipient, Patricia Rowley.
Three of the 2018-19 DAISY award recipients were also highlighted during the ceremony: Brooke Talbot, Anne Villalobos, and Liz Wilson.
A new award was added to this year's ceremony, presented by Beebe Medical Foundation. The new Nursing Philanthropy Award was presented to Karen Pickard, MSN, RN, CNE, Margaret H. Rollins School of Nursing Program Administrator. The award, which will be presented each year, is given to a nurse whose career and service to the community embodies several or all of the following criteria:
•
Nominees have been recognized by grateful patients through the Celebrate Excellent Care program.
•
Nominees attend or volunteer at Beebe Medical Foundation events or have organized a fundraising event benefitting the Beebe Medical Foundation.
•
Nominees are active donors, Giving Hands Society members, or 1916 Club members and are willing to speak with donors about philanthropy.
"Without our nurses, we would not be able to provide the high level of care that we do – every day – for our community," said Steve Rhone, RN, BSN, MS, NE-BC, Vice President and Chief Nursing Officer for Beebe Healthcare. "Our nurses take great pride in making our healthcare system outstanding. This day every year is special because we are able to recognize their efforts."
The event was made possible by the generosity of Rusty Rudder owner, Alex Pires, and the staff who ensured a memorable evening, said Laura Smith, of the Nurses Celebrating Nurses Committee.
"To be nominated means someone took the time to recognize the nursing excellence found at Beebe Healthcare," Smith said. "During the 8th annual Nursing Excellence Awards, 39 nurses were nominated. Even though this only honors 3% of our nurses and nursing assistants, Beebe appreciates all the care our colleagues provide on a daily basis. It is always special to honor the nominees and winners, especially with great weather at a great venue."
Below is the entire list of nominees and award recipients. This year's award recipients are bolded.
Bonnie Austin Nursing Leadership
Charlotte Buoni
Loretta Ostroski
Shelly Robinson
Tracy Williams
Connie Bushey Nursing Scholarship
Morgan Mast
Alison Watson
Taryn Zimmerman
Eleanor Cordrey Nursing Excellence
Jillian Abbott
Shawna Mayles
Caitlin Owens
Megan Roy
Anne Villalobos
Holly Rader Advanced Practice Nursing Excellence
Betsy Frederick
Kim Travis
Professional Mentor Nursing Excellence
Jessica Ketterman
Michelle Fletcher
Meta Sharp-Franz
Susan Maross
Janie Wells
Graduate Nurse Excellence
Angela Gleysteen
Dawn Head
Amanda Heath
Alex Rizzo
Hannah Remo
Certified Nursing Assistant Excellence
Henry Brisco
Sarah Chorman
Cynthia Derstine
Gina Knapp
Vicky Mallet
Laura Marcu
Michelle Morris
Sheena Purnell
Camryn Upchurch
Brittany Yeo
Medical Foundation Nurse Philanthropy
Karen Pickard
Congratulations to all of the nominees and winners!
Pictured: The award recipients and committee members pose for a photo at the 2019 Nursing Excellence Awards. Pictured left to right are: Chief Nursing Officer Steve Rhone, Laura Smith, award recipient Karen Pickard, award recipient Charlotte Buoni, award recipient Morgan Mast, DAISY recipient and Committee member Brooke Talbot, award recipient Amanda Heath, award recipient Jillian Abbott, award recipient Gina Knapp, award recipient Janie Wells, DAISY recipient Anne Villalobos, award recipient Kim Travis, DAISY recipient Liz Wilson, and VIA scholarship award recipient Patricia Rowley.
---