Beebe Healthcare Announces First Baby of 2019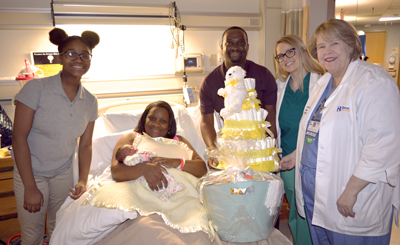 Born the morning of January 1, 2019, Amileyon Maull was celebrated as the first Beebe Baby of 2019.
Her parents, Cevon Maull and Mark Williams, as well as 12-year-old daughter Zhane Maull, welcomed the little girl with open arms.
"We weren't expecting to have her this early because she wasn't due until January 8," said Cevon. "Everyone here at Beebe has been fantastic. We couldn't have had better a better doctor – Dr. Katrin Arnolds – or team here on the Women's Health unit."
Shown (left to right) are Zhane Maull, Amileyon and Cevon Maull, Mark Williams, Dr. Katrin Arnolds of Beebe Women's Healthcare – Plantations, and Lisa Klein, Nurse Manager, Beebe Women's Health.
Beebe Women's Health collected donations from the community, including from the Jazzy Jewels Chapter of the Red Hat Society, and put together a basket of baby items and a diaper cake – a tower made of baby diapers – to give to the family.
---