Beebe Healthcare Announces New Strategic Plan to Define a New Era in Healthcare for Sussex County
Image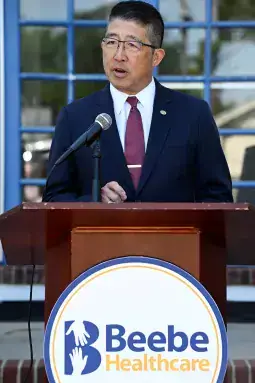 Beebe Healthcare leaders defined a new vision and strategic plan today for the healthcare system on the steps on the historic Shaw Building on Savannah Road.
"Beebe Healthcare is and will continue to be the healthcare provider of choice in Sussex County," Terry Megee, Board Chair, Beebe Healthcare Board of Directors, said in a statement. "It is with that spirit that we boldly embark on our next chapter as "One Beebe," guided by a strategic framework that encompasses the clinical missions of Beebe Healthcare, Beebe Medical Group, the Margaret H. Rollins School of Nursing, and the Beebe Medical Foundation. This strategic plan makes clear our shared organization priorities for the road ahead."
The Beebe Board of Directors and Executive Management created a Strategic Planning Committee that conducted interviews with community members, leaders, team members and physicians in development of the plan. At the crossroads of community growth and healthcare evolution, Beebe leadership felt now was the time to reveal this five-year strategic plan.
Board member Sara Larch spoke on behalf of the Beebe Healthcare Board in Megee's absence. Paul Peet, MD, President of the Medical Staff, represented the physicians and practitioners. Tom Protack, President, Beebe Medical Foundation, represented the philanthropic arm of Beebe and the community, and David A. Tam, MD, MBA, CPHE, FACHE, President & CEO, Beebe Healthcare, concluded the announcement.
"We have drawn a line in the sand to say that we are solely focused on the healthcare needs of the people who live, work, visit, and seek care in Sussex County," Dr. Tam said. "We are committed to serving the needs of our growing community, and that includes those who travel into Sussex County to receive care from one of our renowned specialists.
"As the only health system headquartered in and focused solely on Sussex County, it is our unique position to truly understand the programs, technologies, and barrier breakers needed to provide excellent healthcare services to those we serve. With more than 100 years serving this County, we continue to grow, evolve and innovate to serve our community, and this five-year strategic plan works to solidify this promise."
Change is Driving Beebe Opportunities
Healthcare continues to change at a dynamic pace with the pandemic exacerbating longtime industry issues surrounding access to equitable care and staffing. Healthcare delivery has shifted away from acute care centers and out to where communities are located. Digital advancements mean more opportunities to receive the same level of care in many different settings. And finally, the stressors on healthcare workers have peaked, and Beebe is set on making the well-being of team members as high of a priority as the care provided for patients.
Sussex County has seen Beebe's transformation take shape in the last two years. Beebe has been a leader in the face of the COVID-19 pandemic, building on long-term relationships with local organizations and businesses to help the community navigate this once in a lifetime event. As a result, Beebe has become stronger and more agile in its ability to meet the healthcare needs of Sussex County.
"Building on the values and successes of our historic past, Beebe's new strategic future emphasizes health and wellness for all people," Dr. Tam said. "Beebe has always been about people – from our patients and their families to our team members. This will never change. Patients and people first remain the framework for our five goals because Sussex County is Our Specialty."
A Brief Overview of These Strategic Goals
1.    Deliver Superior Access to Care and Superior Patient Experience: Beebe will continue to make thoughtful investments in people, infrastructure, technology, innovation, partnerships, and comprehensive services to ensure that everyone in our community can enjoy convenient access to the best healthcare experiences that exceed both their expectations and overall industry standards.
2.    Enhance and Expand Core Clinical Services to Better Serve the Community: Beebe will remain focused on delivering the safest and highest quality care while growing and expanding our core services to meet the evolving needs of our patients here at home. Simultaneously, we will continue building and embracing strategic alliances and partnerships with select providers throughout the region to ensure our patients have access to a clear and easy-to-navigate path to receiving key complex/specialized care services when needed.
3.    Develop Programs Based on Patient Centricity and That Are Inclusive for All People: Beebe will take steps to better understand and elevate the voices and expectations of our various stakeholders — our patients, physicians, providers, employees, payers, etc. — as well as the community at-large to inform valuable programs, resources, and services needed to promote wellness, disease prevention, and overall healthy living in Sussex County.
4.    Become the Employer & Partner of Choice in Sussex County: Beebe will take steps to offer a unique and dynamic work environment that attracts the best people and partners and fosters long-term loyalty to our system. This includes offering a balanced and competitive mix of growth and development opportunities, compensation and/or incentives, and other benefits built upon a diverse and inclusive culture where everyone is deeply connected to our mission and committed to providing remarkable, compassionate care every day.
5.    Steward Resources and Promote an Agile Business Model to Ensure Beebe's Sustainability and Success: Beebe will remain focused on using our available resources (people, money, etc.) with the utmost integrity to ensure our stability today and longevity over time. Furthermore, we will ensure that our organizational decision making always remains focused on supporting our long-term strategic goals without compromising our ability to swiftly act in the best interests of the patients and communities we serve in the near-term when needed.
Promises Kept for Sussex County
Almost exactly five years ago in June 2017, Beebe's Board approved its largest expansion in its more than 100-year history. Now, the South Coastal Health Campus featuring a freestanding Emergency Department and Cancer Center near Millville cares for patients daily since opening in the spring and summer of 2020.
Milestones continue to be completed as renovations take place at the Margaret H. Rollins Lewes Campus, which has seen a complete redesign of its main entrance and lobby in the last year. And a month ago, Beebe celebrated the grand opening of the largest facility of the expansion, the $124 million Specialty Surgical Hospital, which opened its doors to transform surgical care access in Sussex County.
"When Beebe commits to a plan for the people of Sussex County, we deliver," said Tom Protack, President, Beebe Medical Foundation. "But I would be remiss if I didn't say the people of Sussex County return that support through their incredible philanthropy. That tells me the people who value Sussex County value what Beebe does for the community. And that having a health system solely focused on the good of those people makes a difference in the care that is received for those who are here now and for the families of the future. Sussex supports Beebe and Sussex County has been our Specialty for over 106 years strong!"
Visit One Beebe to learn more about the strategic plan.
---