Beebe Healthcare Announces WATCHMAN™ Program
Multidisciplinary approach improves health of those with atrial fibrillation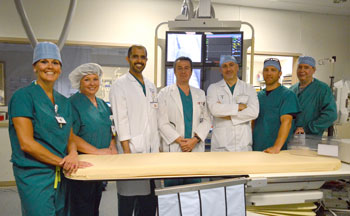 Beebe Healthcare is proud to announce the WATCHMAN™ Program.
For the past two years, Beebe's multidisciplinary team, which includes interventional cardiology, electrophysiology, and cardiology physicians and care providers, has been working to create, build, and train on the WATCHMAN device, developed by Boston Scientific. The first implant of the WATCHMAN Left Atrial Appendage Closure was successful in late May.
The WATCHMAN device is an alternative to the lifelong use of warfarin for people with Atrial Fibrillation not caused by a heart valve problem (also known as non-valvular AF).
An estimated five million Americans are affected by AF – an irregular heartbeat that feels like a quivering heart. People with AF have a five times greater risk of stroke than those with normal heart rhythms. The WATCHMAN device closes off an area of the heart called the left atrial appendage (LAA) to keep harmful blood clots that can form in the LAA from entering the blood stream and potentially causing a stroke. By closing off the LAA, the risk of stroke may be reduced and, over time, patients may be able to stop taking warfarin.
"Beebe is very passionate and dedicated to advancing the care and procedures available here for the community," said Mouhanad Freih, Medical Director of Interventional Cardiology with Beebe and Board Certified interventional cardiologist with Clinic By the Sea. "It is because of this dedication we were able to initiate the WATCHMAN program here. It is a great way we can continue to serve our patients so they can receive the quality care they need, right here in Lewes."
For more information on the WATCHMAN Program at Beebe: www.beebehealthcare.org/watchman.
"It really could not have gone better. It is just incredible to see this device in action and know that it is truly going to improve this patient's health," said Dr. Georges Dahr, Medical Director of Cardiology and Board Certified cardiologist with Clinic by the Sea. "One of the great parts of working with Beebe is that we can really develop the program and work as a team to select the correct patients. It is key to have the right people for the procedure."
The WATCHMAN device has been implanted in more than 50,000 patients worldwide and is done in a one-time procedure. It's a permanent device that doesn't have to be replaced and can't be seen outside the body. The procedure is done under general anesthesia and takes about an hour. Patients commonly stay in the hospital overnight and leave the next day.
"In addition to reducing risk of stroke for patients with atrial fibrillation, the WATCHMAN also allows them to prevent bleeding incidents by being able to stop taking warfarin or other blood thinners," said Dr. Malick Islam, Medical Director of Cardiac Electrophysiology at Beebe, and Board Certified cardiologist and electrophysiologist with Delaware Cardiovascular Associates. "After the procedure, many patients will just be taking an aspirin and perhaps Plavix or something similar. In some cases, after a year, patients can go off of the Plavix as well. It's really a benefit for them and improves their health and enjoyment of their lives."
About Atrial Fibrillation
Atrial fibrillation (AF) is a heart condition where the upper chambers of the heart (atrium) beat too fast and with irregular rhythm (fibrillation). AF is the most common cardiac arrhythmia, currently affecting more than five million Americans.
Twenty percent of all strokes occur in patients with Atrial Fibrillation and related strokes are more frequently fatal and disabling. The most common treatment to reduce stroke risk in patients with AF is blood-thinning warfarin medication. Despite its proven efficacy, long-term warfarin medication is not well-tolerated by some patients and carries a significant risk for bleeding complications. Nearly half of AF patients eligible for warfarin are currently untreated due to tolerance and adherence issues. For more information on the WATCHMAN device, please visit: www.watchman.com.
---