Beebe Healthcare Awards Dr. Michael Kalil with L.O.V.E. Letter Award
Image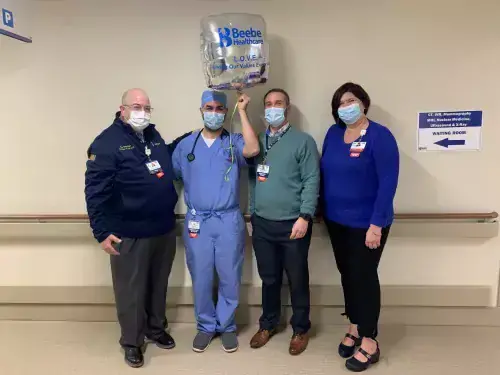 Beebe Healthcare is proud to recognize Michael Kalil, DO, as the November recipient of the Living Our Values Every Day (L.O.V.E.) Letter Award.
Michael Kalil, DO, a Hospitalist in the Intensive Care Unit, was awarded this recognition for going above and beyond to make a difference for a patient and his wife.
Unfortunately, one of Dr. Kalil's patients was in very serious condition. After contacting the patient's wife about the severity of the situation, she replied that she couldn't get to the hospital because she was unable to drive in the dark.
"Hearing this, Dr. Kalil assisted in arranging for the police to bring the patient's wife to the hospital," wrote Danielle Funk, a nurse who submitted the nomination letter. "Shortly after her arrival, the patient passed peacefully with his wife by his side."
Dr. Kalil's quick, creative and compassionate thinking enabled the patient's wife to have the opportunity to say goodbye to her husband.
Through his efforts, Michael has demonstrated many of the Beebe values, including "build trusting relationships with compassion and kindness," and "act with passion and love for others to make a difference."
Thank you for all you do Dr. Kalil!
Beebe Healthcare's L.O.V.E. Letter Recognition Program is similar to an employee of the month program. Team members are encouraged to send L.O.V.E. notes to other team members during the course of the month. A committee then evaluates the L.O.V.E. notes and selects one to receive the monthly L.O.V.E. Letter. Winners are announced in a surprise ceremony in which the committee visits the winner in his or her department and presents the award.  Employees selected for the award receive:
Parking space in the parking garage for one month
$100 gift card donated by Fred and Lyndie Hertrich
Gift card to Waves Car Wash
100 points toward Beebe L.O.V.E. Notes Merchandise
100th Anniversary History Book: Two Men With a Dream: The Story of Beebe Healthcare
Letter of congratulations and personal visit from members of the executive team
Their photo added to the L.O.V.E. Letter wall plaque
Letter to team member's director and department recognition
Photo caption: Michael Kalil, D.O., Hospitalists in Beebe Healthcare's Intensive Care Unit, (second from left) is the recipient of Beebe's L.O.V.E. Letter Award for his efforts to make a difference for a patient and his wife. Also pictured from left to right are Rick Schaffner, Executive VP and COO of Beebe Healthcare, William Chasanov, D.O., VP and Chief Population Health Officer, and Chris Lowell, Manager of Inpatient Practice Operations.
---