Beebe Healthcare Breaks Ground on Specialty Surgical Hospital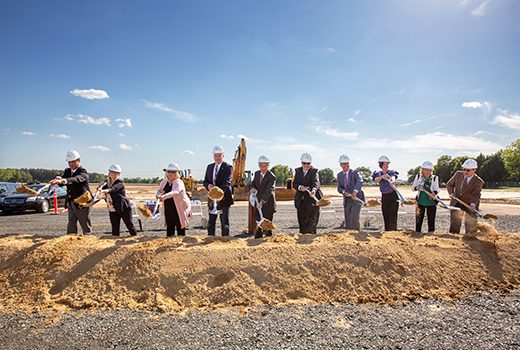 Beebe Healthcare held a groundbreaking ceremony at the future home of its Specialty Surgical Hospital at the Rehoboth Health Campus on Wednesday, May 15. The $124 million, four-story, state-of-the-art surgery center will allow patients with scheduled surgeries to not compete for services with more acutely sick patients and emergency patients of a general acute-care hospital.
Click for more photos from the event.
It will be the home for the Center for Robotic Surgery, and future home of the Women's Health Labor & Delivery floor, where expectant families can continue to deliver babies in a family-centered, dedicated environment. It is expected to open in 2022.
Shown during ceremonial groundbreaking scoop left to right are:
Dr. Wilson Choy, orthopaedic surgeon with Premier Bone & Joint Care; Dr. Katrin Arnolds, OB/GYN with Beebe Women's Healthcare – Plantations; Terry and Vanessa Megee, Co-Chairs of the Beebe Medical Foundation's "I Believe in Beebe" campaign; Dave Herbert, Chair, Beebe Board of Directors; Rick Schaffner, Interim CEO, Executive Vice President and Chief Operating Officer; Mike and Kelli Meoli, Co-Chairs of the "I Believe in Beebe" campaign; Judy Aliquo, President and CEO, Beebe Medical Foundation; and Keith Goheen, Chaplain.
For more information about Beebe Medical Foundation or to make a donation, call (302) 644-2900 or go to www.beebemedicalfoundation.org. To learn more about how Beebe is Creating the Next Generation of Care, go to www.nextgenerationofcare.org.
---