Beebe Healthcare Celebrates Artists at Specialty Surgical Hospital on Rehoboth Health Campus
Image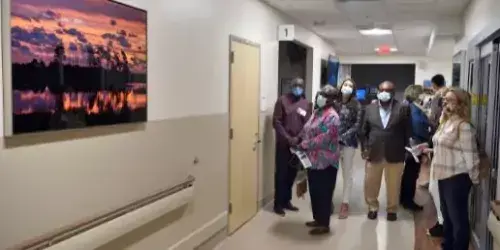 Beebe Healthcare recently celebrated dozens of local artists and photographers whose art was selected to enhance the interior of the new Specialty Surgical Hospital, which opens later this month on the Rehoboth Health Campus.
More than 100 artists, with their friends and family, toured the facility to see their work. Beebe's Art Advisory Committee set out to collect about 50 wall-hanging art pieces and sorted through hundreds of submissions before landing on the work of 62 artists. The artwork is featured throughout many Beebe offices and campuses, including Beebe's South Coastal Health Campus, the Margaret H. Rollins Lewes Campus, and the Tunnell Cancer Center.
In 2018, Beebe's Art Advisory Committee successfully started a similar campaign to decorate Beebe's newest health campus. The South Coastal Health Campus, which houses a freestanding Emergency Department and Cancer Center, features locally sourced art throughout its hallways and rooms. The campus, located on Route 17 near Millville, opened in May 2020.
"It was such a pleasure working with this art committee and seeing the joy of all who toured the facility," said Mark Loukides, Vice President of Facilities at Beebe Healthcare. "Art can be healing and nurturing. We are so happy to be working with local artists and photographers to breathe Sussex County into this new Health Campus for our patients and their families. I cannot wait for the community to see it once it opens and patients begin to experience this comforting space."
Members of the community may sponsor these beautiful works of art through the Beebe Medical Foundation's Healing Arts Program. Sponsorship includes a permanent plaque placed with the artwork, and a copy of the piece for your personal collection.
Beebe broke ground at the future home of its Specialty Surgical Hospital on Wednesday, May 15, 2019. The surgical hospital is packed with the latest technologies to streamline operative care for patients with a wide range of medical needs, from bariatric and breast procedures to orthopaedic surgeries. In mid-March, community members were able to tour the private patient rooms and pre- and post-operative bays, as well as diagnostic imaging and physical therapy space.
The $124 million, four-story, state-of-the-art surgical hospital will ensure patients with scheduled surgeries do not need to compete for services with more acutely sick patients and emergency patients at a general acute-care hospital. Surgeons will be able to perform both minimally invasive and robotically assisted surgeries at this new surgery hospital.
"The Specialty Surgical Hospital on Beebe's Rehoboth Health Campus symbolizes the rapid evolution in healthcare. As Sussex County grows, so does Beebe. This investment is our commitment to you – right down to the healing art on the walls of our facilities," said David A. Tam, MD, MBA, CPHE, FACHE, President & CEO, Beebe Healthcare.
---