Beebe Healthcare Congratulates Vikas Batra, MD, recipient of 2018 Excellence Award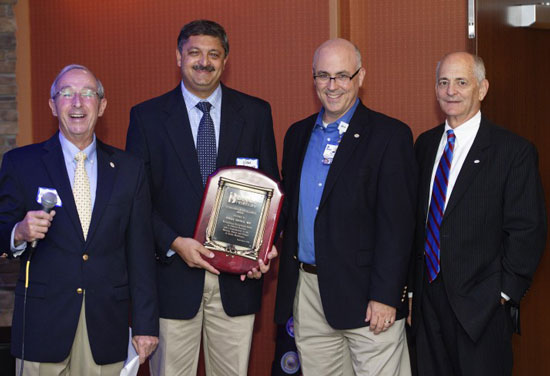 Congratulations to Vikas Batra, MD, the award winner of the 2018 Standards of Excellence Award at the Beebe Medical Staff's 7th Annual New Provider Reception and Awards Ceremony!
Dr. Batra joined the Medical Staff in 2003. He is Board Certified in Internal Medicine, Pulmonary Medicine, Sleep Medicine, and Critical Care. He has been the Medical Staff Vice President for eight years, Chair of the Peer Review Oversight Committee, and the Medical Director for Pulmonary Rehab and Respiratory Services.
"In all his involvement, he has created positive changes for our patients, staff, and physicians," said Dr. Jeffrey Hawtof, Vice President of Medical Operations and Informatics.
Congratulations again to Dr. Batra!
Shown (left to right) are David A. Herbert, Beebe Board of Directors Chairman; Dr. Vikas Batra; Dr. Jeffrey Hawtof; and Jeffrey Fried, FACHE, President & CEO, Beebe Healthcare.
---