Beebe Healthcare Earns Five-Star Ratings for Heart Attack and Pancreatitis Care by Healthgrades  
Image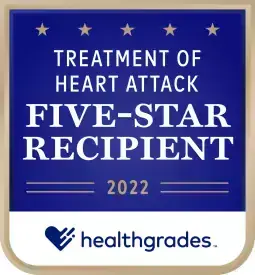 Beebe Healthcare has earned two new five-star ratings for the treatment of heart attacks and pancreatitis by Healthgrades®.
Ratings are determined based on an evaluation of a hospital's quality performance in specific clinical categories, with five stars indicating that quality measures and associated patient outcomes are higher than predicted and expected. Healthgrades is a web-based company whose mission is to help consumers make educated decisions about where to turn for the highest quality medical care.
Beebe's heart attack and pancreatitis five-star recognitions are added to Beebe's existing Healthgrades accolades, which include active five-star ratings for orthopaedics, pulmonary, gastrointestinal, and critical care.
Beebe has been a five-start recipient for total knee replacement for 19 years in a row (2004-2022), for treatment of pneumonia for 17 years in a row (2006-2022), a recipient of the Pulmonary Care Excellence Award and ranked among the Top 10% for Pulmonary Services for six years in a row (2017-2022), for gastrointestinal bleed treatment for two years in a row (2021-2022), and for treatment of sepsis for two years in a row (2021-2022).
"Beebe Healthcare has continuously evolved our programs to assure local patients can come to their community hospital for innovative care that models what you would expect to find at a large academic medical center," said David Tam, MD, MBA, CPHE, FACHE, President & CEO, Beebe Healthcare. "I am incredibly proud of our clinical providers and administrators for the progress we have made in positioning Beebe as a true leader in providing care to Sussex County."
On an annual basis, Healthgrades evaluates clinical programs across more than 4,500 U.S. hospitals and healthcare systems. They analyze three years of data provided by Medicare, including a hospital's mortality and complication rates within a specific service line. Healthgrades' star ratings are determined with use of a risk-adjusted statistical model that generates performance predictions in line with a hospital's patient acuity trends.
"We are a healthcare system that is committed to providing the highest quality, evidence-based, outcomes-based, patient-centric care," said Rick Schaffner, Executive Vice President and Chief Operating Officer, Beebe Healthcare. "We know that patients have options in terms of where to turn for their care, and five-star recognitions from Healthgrades give them confidence in choosing us."
---