Beebe Healthcare Earns Recertification as an Advanced Primary Care Stroke Center
Image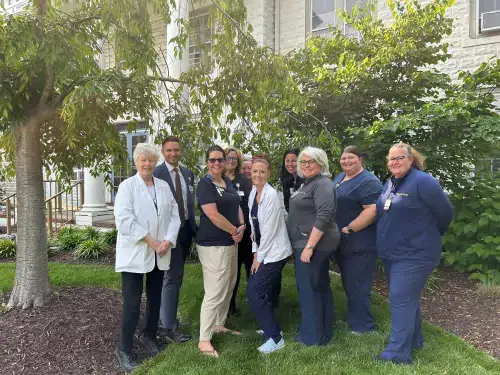 Beebe Healthcare is proud to announce it has been recertified as an Advanced Primary Stroke Center by the Joint Commission and the American Heart Association.
This designation recognizes Beebe as a healthcare institution that makes exceptional efforts to foster better outcomes for patients, and it underscores the hospital's commitment to providing the highest quality, specialized care for those who experience a stroke.
In addition to adopting and perfecting a set of standardized performance measures, Beebe collected and reported data relevant to each measure on a monthly basis. Collectively, the data reported to the Joint Commission draws a picture about the quality of stroke care delivered at Beebe and how that leads to not only positive patient experiences, but also optimized clinical outcomes.
"We are incredibly committed to taking every step necessary to optimize the process of care for our stroke patients and have worked collaboratively to understand and implement proven best practices across the hospital," said David A. Tam, MD, MBA, CPHE, FACHE, President & CEO, Beebe Healthcare. "Everything we do, and every decision, we make comes back to what is best for our patients. Our recertification as an Advanced Primary Stroke Center confirms the care we offer for stroke patients is quality and safety-centered, and is focused on saving lives."
Thomas Trobiano, DNP, APRN, FNP-C, MAPC, Executive Director of Cardiovascular and Neurosciences Services at Beebe, emphasizes that this achievement would not have been possible without the unwavering commitment of the members of many teams, who have worked diligently to optimize patient care standards and procedures for stroke patients.
"I am so proud of our team and the dedication they have shown to making Beebe Healthcare a place where stroke patients and their families can feel confident that they are getting the highest quality care," said Trobiano. "Achievement of this recertification is no small feat. They are passionate about what they do, and it shows – every day."
CAPTION: A small part of the multidisciplinary team who helped earn this reaccreditation gathered for this photo, from left to right, Barb Moulinier, Accreditation Specialist, Thomas Trobiano, Executive Director Cardiovascular and Neurosciences Services, Jennifer Rutherford, RN, Katharine Betts, Accreditation Specialist, Vicky Card, Medical Staff Office Manager, Tiffany Travis, Nurse Manager, Teri Wilkinson, RN, Director of Emergency Services, Susan Mross, Emergency Department Nurse Manager, Beth Goins, Nurse Manager, and Melissa Heldreth, Nurse Manager.
---