Beebe Healthcare Honored by Sons of the American Revolution for Flying Flag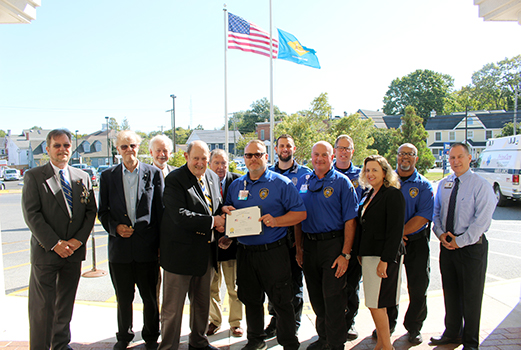 Beebe Healthcare was presented with a certificate for flying the American flag without being required to by law. Bill Richardson, president of the Delaware Society Caesar Rodney chapter of the Sons of the American Revolution, presented Beebe with the honor on Sept 24.
Shown during the presentation (left to right) are chapter members Buddy Clark, Wayne Weimer, Darryl Hudson, Bill Richardson, and. Bill Regli. Accepting the honor on behalf of Beebe Healthcare are public safety officers, Joe Pembroke, Mark Broadhurst, Andy Markovitz, Jeff Fox, and Darnell Coston, along with Marcy Jack, Vice President and Chief Quality and Safety Officer, and head of security Frank Molino.
For more information about Beebe Healthcare, go to www.beebehealthcare.org. To find out how Beebe Healthcare is Creating the Next Generation of Care for the community, go to www.nextgenerationofcare.org.
---