Beebe Healthcare to Host 2nd Annual 5K Run/Walk for Beebe Heroes
Image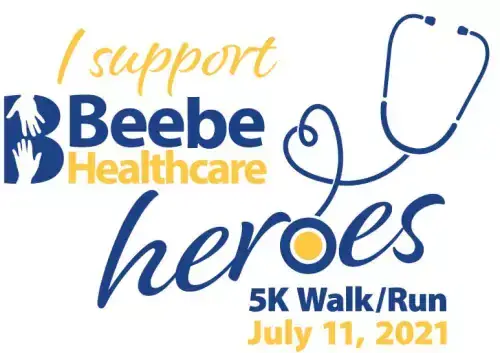 Beebe Medical Foundation has partnered with Seashore Striders Delaware to host the 2nd Annual Beebe Heroes 5K Run/Walk. This year's 3.1-mile race will be both live and virtual. 
The live event will take place on July 11 at 7:30 a.m. at Irish Eyes in Lewes. Awards will be presented to overall male and female champions, overall male and female masters (40-plus years old), as well as the top three male and female finishers in multiple age categories through 80 years old. Award presentations will begin within 20 minutes of the final runner crossing the finish line.
For virtual participants, there will no awards and results will not be included for the in-person race results. Virtual race times will be verified by participants sending an email to Race Director, Tim Bamforth, with an attached selfie, as well as a close-up photo of their distance and time. Virtual results that are received will be included in the online race results. 
Early pickup of race packets will be July 10 from 5-7 p.m. at Irish Eyes in Lewes. Irish Eyes will also be providing food and drink for the post-race event on race day.
"Last year's inaugural race was a great success, and we are looking forward even more to this year's live event," said Tom Protack, President of Beebe Medical Foundation. "With over 100 participants already signed up, we are excited to host so many community supporters. Please join us, exercising on behalf of our Beebe Healthcare Heroes who are committed each day to providing us with safe and compassionate care. I look forward to seeing everyone on race day and I would also like say a special thank you to all of our sponsors, especially many of our Foundation Board Members and Board of Ambassadors!"
To register for the 2nd Annual Beebe Heroes 5K Run/Walk, visit the Seashore Striders website.  
---