Beebe Healthcare Kicks Off 100th Anniversary Celebration in Lewes
On Wednesday, September 30, Beebe Healthcare kicked off its year-long 100th Anniversary with a community event on the front lawn of Beebe's Medical Center in Lewes.
Rain did not deter the more than 500 people who gathered in front of Beebe as they recognized the commitment of the Beebe family, the passion of the Beebe team members, and the legacy of two doctor brothers.
Dr. James Beebe and Dr. Richard C. Beebe founded Beebe Hospital in 1916 with a mission of bringing modern medicine Sussex County. Beebe was the first hospital established outside the City of Wilmington in Delaware.
During the September 30 event, Senator Ernie Lopez read the inscription which will be displayed on a historic marker placed in front of Beebe in Lewes.
It reads, "In 1916, two brothers, Drs. James Beebe, Sr. and Richard C. Beebe, had a shared vision to bring modern-day medicine to Southern Delaware. The Beebe brothers started the first hospital in Sussex County on Savannah Road in Lewes. The hospital began as a small, four-room hospital with an operating room and two patient rooms large enough for three patients. Constructed in 1921, the Benjamin F. and Helen M. Shaw Building expanded Beebe Hospital to a 35-bed facility. The Beebe School of Nursing was founded on site this same year. During WWII, Beebe played a vital role in treating the war-wounded, including the sailors and merchant mariners whose ships had been torpedoed off the coast by German submarines. Dr. James Beebe, Jr., the first board certified surgeon in Sussex County and son of one of the founders, developed the first cancer tumor registry in Delaware in 1950. For over 100 years, Beebe Hospital has served the community through the ongoing efforts of the Beebe family and thousands of healthcare workers, doctors, nurses, volunteers and donors."
Events and educational activities will take place throughout 2016. A children's book will be published and shared with schools and libraries in Delaware. There also will be a full-color, coffee table history book with photography by Kevin Fleming published during the year. 
Beebe Healthcare is a not-for-profit community healthcare system with a charitable mission to encourage healthy living, prevent illness, and restore optimal health for the people residing, working, or visiting in the communities we serve. It offers services throughout Southern Delaware for residents and visitors, including a 210-licensed-bed hospital, a cancer center, and outpatient facilities providing walk-in care, lab, imaging, and physical rehabilitation services.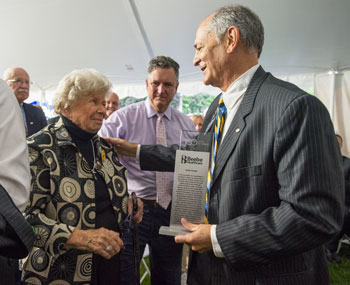 Jeffrey M. Fried, President & CEO of Beebe Healthcare, right, talks to Anna Beebe Moore, as members of the Beebe family are recognized for their service and commitment to Beebe Healthcare.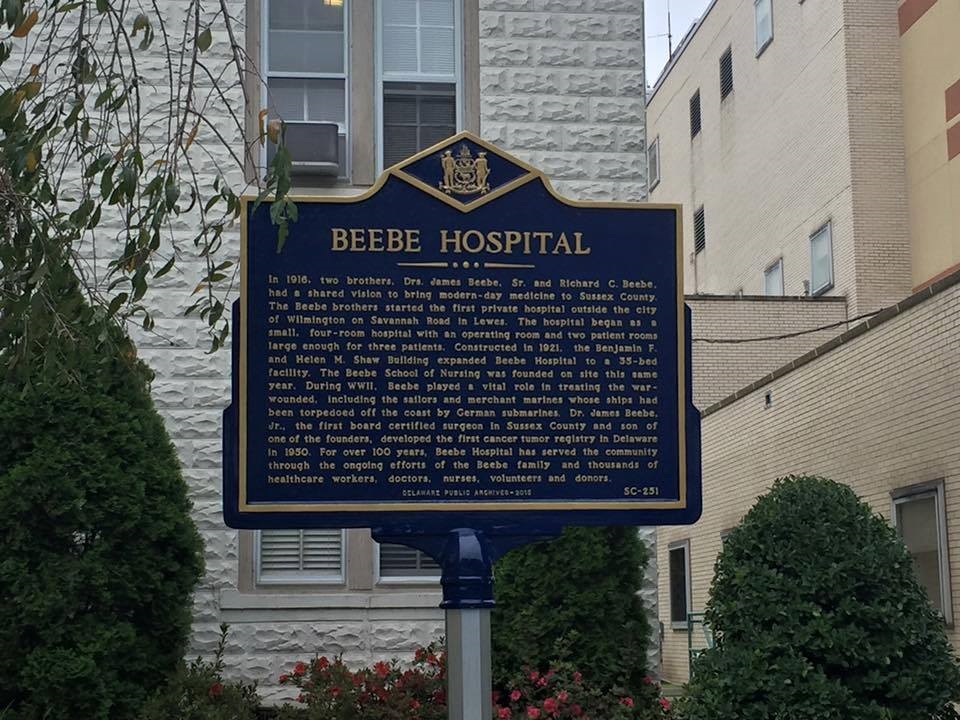 The Historic Marker presented by the Delaware State Archives stands in front of Beebe Healthcare's Main Campus in Lewes.
---