Beebe Healthcare Offering Primary Care Appointments, COVID-19 Vaccines at Outdoor Home, Health & Craft Expo 
Image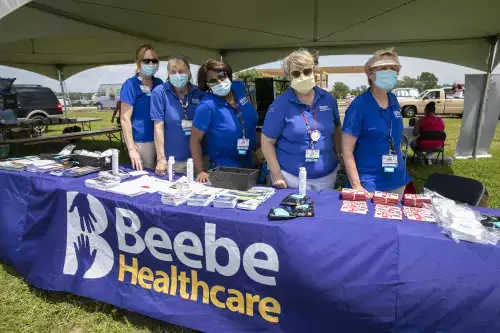 Beebe Healthcare and the Bookmobile vaccine clinic team will join the 3rd Delaware Resorts Outdoor Home, Health & Craft Expo on Saturday, June 19.
At the expo, individuals will be able to receive a COVID-19 vaccination and will also be able to make an appointment with a primary care provider if needed. 
"Not only am I looking forward to visiting the expo, but I'm so glad the Beebe Medical Group and Community Outreach team can provide these services for those who attend the expo Saturday," said David A. Tam, MD, MBA, FACHE, President & CEO, Beebe Healthcare. "With more physicians and providers joining the Team Beebe now than ever before, we have greatly expanded our ability to care to those who live, work and visit Sussex County. Your Beebe care team is here to listen, understand and make sure you feel heard and respected. We are with you, as partners in your care. That's why the best care is here."
The expo runs Saturday, June 19, from 10 a.m. to 4 p.m., Sunday, June 20, from 11 a.m. to 3 p.m. at Hudson Fields, just minutes north of Lewes on Route 1 South. More than 120 exhibitors will present their products and services over the two days. Admission and parking are free to the public.  
The Outdoor Home, Health & Craft Expo also benefits Sussex County Habitat for Humanity, the nonprofit organization assisting qualified Sussex County residents with simple, affordable housing. Several of the exhibitors will offer "Expo specials" and many will be giving away gifts and prizes, according to event organized Kathy Benson. Additionally, Delaware Resorts will be giving away, free of charge, the new 2021 Delaware Beach Book to the first 500 visitors each day. 
Top food trucks will offer traditional fare and Summer J all-natural organic Popsicles will be on hand. 
For more information please contact Kathy at [email protected] or 302-236-0857.
Caption: Beebe Healthcare Population Health's tent at the previous year's expo. 
 
---