Beebe Healthcare Opening New Primary Care Office in Selbyville
Image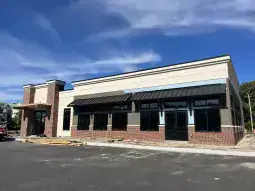 Beebe Healthcare is excited to announced Beebe Medical Group's next Primary Care location conveniently located at "Bayside Corner" at the intersection of Routes 54 and 20 in Selbyville. The exterior structure is in the process of being built with a tentative opening in mid-2023.
Beebe Primary Care Selbyville is expected to have 10 exam rooms, which would allow for approximately five primary care providers. The goal is to create increased same-day sick visit access for established Beebe primary care patients and have extended hours of operation.
"Beebe Medical Group is excited to expanded primary care access in our South Coastal area," said Christina Onolaja, Director of Primary Care for Beebe Medical Group. "Our Medical Group continues to grow, and we are committed to increasing access to high quality care that's close to home for the people of Sussex County.
More information will be available as construction is finished. If community members are looking for a primary care provider, they can call 302-645-3332 to find a Beebe provider accepting patients.
"Beebe Healthcare has developed our strategic plan that looks at how we provide comprehensive care throughout Sussex County," said David A. Tam, MD, MBA, CPHE, FACHE, President & CEO, Beebe Healthcare. "That includes Selbyville and the South Coastal area, so we are so thrilled to bring this location to the community thanks to some great partnerships."
"Bayside Corner" is across from the Bayside community and is being developed by the Carl M. Freeman Companies.
"We're thrilled to welcome Beebe Healthcare to Bayside Corner," said Nick Freeman, Vice President of Commercial and Hospitality for the Carl M. Freeman Companies. "Beebe's commitment to serving the community aligns with our mission of creating retail spaces that best serve the area's needs. Proximity to healthcare benefits not only our residents at Bayside, but the neighboring communities."
---