Beebe Healthcare Population Health Department Honored with Jefferson Foundation Students in Action Award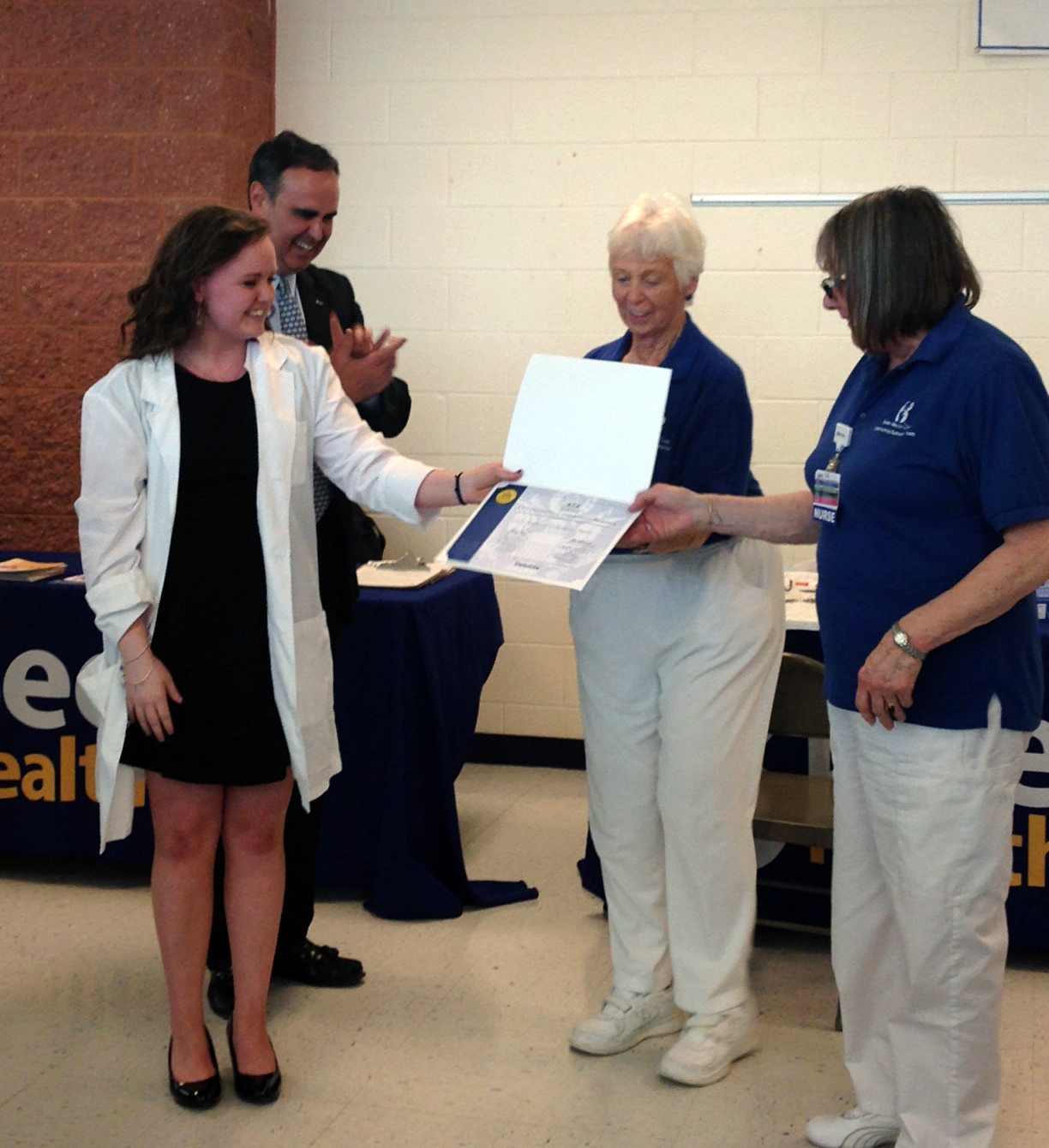 Sussex Central High School students wanted to recognize the help they have received over the years from Beebe Healthcare's Population Health Department, so they nominated the team for a Students in Action award.
The Students in Action award recognizes people and organizations that help develop high school students into community leaders. Launched in 2006 by the Jefferson Awards Foundation and Deloitte, the program encourages students to make a positive impact on society.
In nominating Population Health, Sussex Central Students in Action Chapter member Samantha Franklin wrote, "Beebe has supported our school's health fair for four years … providing screenings and education. Their impact exceeds what they have to provide, their selfless services to our people and to the students of the school should be recognized."
Each year, Beebe's Population Health Department works with Sussex Central High School students to plan a health fair, which provides information to families about nutrition, exercise, and healthy lifestyles.
"We hope to encourage students to think big," said Alison Wade, Students in Action program manager for southern Delaware. "We believe that schools represent one of the best opportunities to connect youth and volunteerism so that public service becomes a lifelong value. That is why the Students in Action program was created and why it is quickly gaining momentum across the United States."
The Students In Action team at Central awarded Beebe's Population Health Department during a surprise announcement at the Health Fair where students, faculty, staff, local organizations, and community members were in attendance.
"It was a complete surprise to receive this award," said Megan Williams, DNP, Director of Population Health at Beebe Healthcare. "The nurses who work with the students each year can attest to the values and integrity that is a central focus of the work they do both in the school and in the community."
Beth West, RN, a clinical nurse with Population Health, said she is proud of the students because they work hard to make each health fair a success.
"The students who work on the health fair are inspirational," said West. "I was so impressed with the goals that these students had. They are so bright and have such bright futures."
West has talked to students who plan to go into the medical field as nurse practitioners, cardiac surgeons, pediatric gastroenterologists, and more.
"In addition to their amazing goals, the students are genuinely interested in living healthier lives," she said. "Several people who had been to the health fair last year told me they changed their diets and were exercising. Many of them had lost weight and lowered their cholesterol. It's all about education and outreach."
Sen. Ernie Lopez, R-Lewes, presented the award to the nurses and talked about the importance of outreach programs and health fairs.
Beebe's Population Health Department supports our charitable mission to encourage healthy living and prevent illness among residents and visitors to our community. Beebe provides a range of free health screenings throughout our community, including blood pressure, cholesterol, osteoporosis, and skin cancer screenings. To schedule screenings for your group or event, please contact Beebe Healthcare's Population Health Department at (302) 645-3337.
For more information and to view the Delaware projects, go to https://studentsinaction.jeffersonawards.org/regions/delaware/
Beebe Healthcare is a not-for-profit community healthcare system with a charitable mission to encourage healthy living, prevent illness, and restore optimal health for the people residing, working, or visiting in the communities we serve. It offers services throughout Southern Delaware for residents and visitors, including a 210-licensed-bed hospital, a cancer center, and outpatient facilities providing walk-in care, lab, imaging, and physical rehab services. For more information, please visit us online at www.beebehealthcare.org.
Caption: Sussex Central High School student and Students in Action Chapter member Samantha Franklin presents Beebe Population Health nurses Doris Hensler, RN, and Beth West, RN, with the Students in Action award, as Sen. Ernie Lopez watches.
---