Beebe Healthcare Presents October 2018 DAISY Award to Extraordinary Nurse Matthew Chaffinch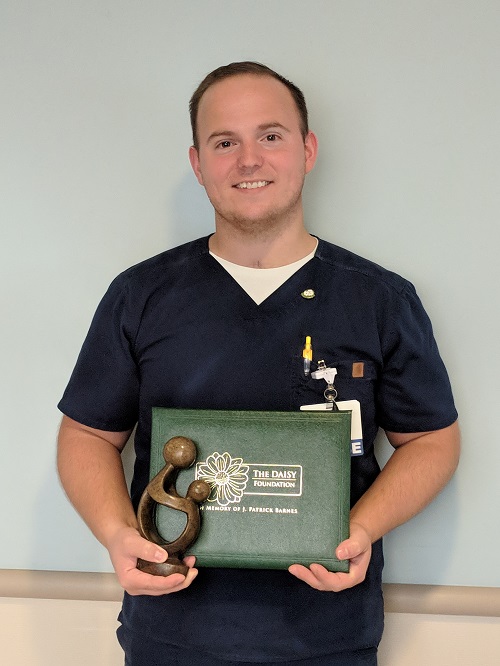 Nurses at Beebe Healthcare are being honored with The DAISY Award, a part of the DAISY Foundation's national program to recognize the super-human efforts nurses make every day. Beebe presents the DAISY Award to nurses on a quarterly basis.
Beebe's September recipient is Matthew Chaffinch, an Intensive Care Unit nurse, who was recognized for the care he provided to a patient and his parents during the patient's last days of life.
"Matt Chaffinch worked overnight and was not only caring to our son but also to us," the patient's parents wrote in their nomination. "He made sure we had pillows and blankets to rest the best we could. He explained everything that he did and gave us such compassion as we came to realize that our son was not going to live. Matt made the worse experience of our lives bearable."
Matt was presented with a DAISY Award certificate and a hand-carved Healer's Touch sculpture during a recent surprise ceremony. Each DAISY honoree receives the statue and the certificate, which commends the honoree for being an "Extraordinary Nurse." It reads: "In deep appreciation of all you do, who you are, and the incredibly meaningful difference you make in the lives of so many people."
The not-for-profit DAISY Foundation is based in Glen Ellen, Calif., and was established by family members in memory of J. Patrick Barnes. Patrick died at the age of 33 in 1999 from complications of Idiopathic Thrombocytopenic Purpura (ITP), a little known but not uncommon auto-immune disease. The care Patrick and his family received from nurses while he was ill inspired this unique means of thanking nurses for making a profound difference in the lives of their patients and patient families.
Nurses may be nominated by patients, families, and colleagues, and they are chosen by a committee of nurses at Beebe Healthcare to receive The DAISY Award. Awards are given throughout the year at presentations given in front of the nurse's colleagues, physicians, patients, and visitors.
"Beebe is proud to be among the healthcare organizations participating in the DAISY Award program," said Chief Nursing Officer Steve Rhone, Vice President and Chief Nursing Officer. "Nurses are heroes every day. It's important that our nurses know their work is highly valued, and The DAISY Foundation provides a way for us to do that."
To nominate a Beebe nurse for the DAISY Award, please visit www.beebehealthcare.org/recognize-beebe-team-member. For a complete listing of healthcare organizations currently running the program, visit www.daisyfoundation.org.
Beebe Healthcare is a not-for-profit community healthcare system with a charitable mission to encourage healthy living, prevent illness, and restore optimal health for the people residing, working, or visiting in the communities we serve. It offers services throughout Southern Delaware for residents and visitors, including a 210-licensed-bed hospital, a cancer treatment center, and outpatient facilities providing walk-in care, lab, imaging, and physical rehabilitation services. For more information, please visit us online at www.beebehealthcare.org.
---