Beebe Healthcare Receives Donation from Crooked Hammock's Dine & Donate Event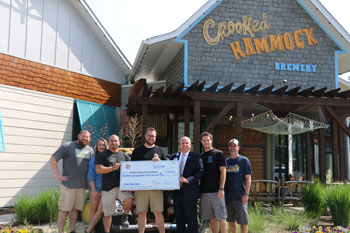 The Beebe Medical Foundation thanks the Crooked Hammock for hosting a Dine & Donate to benefit the 2018 Beebe Beach Bash. The event raised $1,159.48 for Beebe Healthcare's Emergency Department in Lewes and the future Emergency Department in Millville, DE.
Shown during the check presentation (left to right): Ryan White, Danielle Knight, Chris Wood, Matt Frey, Tom Protack, Jon Schorah, and John Wilkinson.
For more information about Beebe Medical Foundation or to make a donation, call (302) 644-2900 or go to www.beebemedicalfoundation.org. To learn more about how Beebe is Creating the Next Generation of Care, go to www.nextgenerationofcare.org.
---