Beebe Healthcare Unveils Memorial Portrait to Honor Dr. Mansour Saberi as a Healer, Leader, and Compassionate Educator
Beebe Healthcare President Jeffrey Fried, Board Chairman David Herbert, and Beebe physician Dr. Beshara Helou were part of the memorial portrait unveiling ceremony honoring the late Dr. Mansour Saberi, held on January 29 at the Margaret H. Rollins School of Nursing. Dr. Saberi's wife, Shirin Saberi, son Kaveh, daughter Sadaf, grandchildren and other family members and friends came together for this special tribute to a widely-regarded exceptional clinician.
Dr. Saberi was a pioneer in his field and carried roles as Assistant Professor of Medicine at Temple University, Instructor of Medicine at University of Delaware, and a member of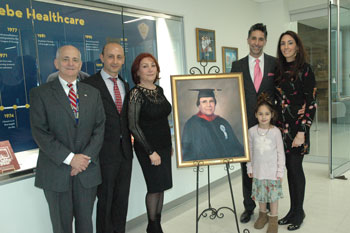 the Department of Medicine at Christiana Medical Center. From 1976 to 1982, Dr. Saberi acted as Chair of the Department of Medicine at Beebe Medical Center, serving the community for over forty years. Dr. Saberi was also Medical Director of the Diabetes and Wound Care Center and established the Center of Osteoporosis, Metabolic and Bone Disorders. Dr. Saberi's proudest and greatest achievement was his nomination and selection by his peers as Master of American College of Physicians (ACP), the highest achievement of the College.
The portrait will be hung in the hospital's Hall of Honor. Beebe Medical Foundation also announced the creation of the Dr. Saberi Scholarship Endowment Fund for nursing school students.
"The Beebe Medical Foundation is proud to announce the new 'Dr. Mansour Saberi School of Nursing Scholarship Endowment," honoring Dr. Saberi. Established by his family, friends, patients, and colleagues through memorial donations, this fund will continue Dr. Saberi's legacy of dedication to the community by helping students in need at Beebe Healthcare's Margaret H. Rollins School of Nursing. His legacy will live on at Beebe through his named scholarship and will provide the gift of education for nursing students," said Judy Aliquo, CFRE, President and CEO, Beebe Medical Foundation.
"It's a bittersweet day today for the Beebe family—while we miss his presence and dedication as a doctor, we will today unveil a picture of Mansour that reminds us all about the kind of person he was; the kind of person that helped to make all of us better at what we do; and lastly, will serve as a reminder to all of us that we are here not for ourselves, but we are here to serve each other. Dr. Saberi is gone, but his legacy will live on as a reminder to the potential that we all have within us to be better clinicians, and better people," said Jeffrey Fried, FACHE, President and CEO, Beebe Healthcare.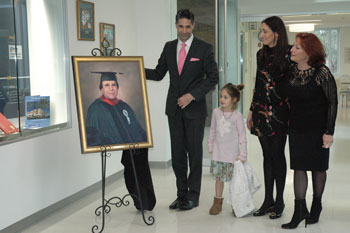 "Dr. Saberi was 'my academic father and mentor'. He was not just a physician, but more of a healer. His devotion to his patients went above and beyond; he had their back and looked at the whole picture, always an advocate for their health. He had a strong likeability, whether you were 80-years-old or two-years-old. He had a vast amount of knowledge which he generously shared. He was a true mentor of mine, that I will forever miss," shared Dr. Beshara Helou.
The Saberi family thanked all the supportive friends, family, and extended Beebe community for making the event possible, and helping fulfill the wish of Mansour Saberi to make education and opportunities accessible through the nursing scholarship endowment.
Photo Caption 1: (shown left to right) Jeffrey Fried, FACHE, President and CEO, Beebe Healthcare; Beshara Helou, MD; Shirin Saberi; Kaveh Saberi with daughter Ellastasia; and Sadaf Saberi.
Photo Caption 2: (shown left to right) Kaveh Saberi (son); granddaughter; Sadaf Saberi (daughter); and Shirin Saberi (wife), unveil the memorial portrait of Dr. Mansour Saberi at the January 29 Beebe Healthcare event.
Beebe Healthcare is a not-for-profit community healthcare system with a charitable mission to encourage healthy living, prevent illness, and restore optimal health for the people who live, work, and visit the communities we serve. The medical center in Lewes is a licensed 210-bed hospital with specialized service lines, including cardiac and vascular, surgical services, medical and radiation oncology, women's health, and orthopaedic services. Outpatient facilities, conveniently located throughout Sussex County, provide primary care, walk-in care, lab, imaging, and physical rehabilitation services, in addition to Beebe's home care services. For more information on services offered through Beebe, go to Beebe Healthcare. To find out how Beebe Healthcare is creating the next generation of care for the community, go to Next Generation of Care.
Beebe Medical Foundation was established in 1989 with the sole mission to raise philanthropic support for Beebe Healthcare. The Foundation is located at 902 Savannah Road, Lewes, DE 19958. To learn more about how you can give, please contact the Beebe Medical Foundation at (302) 644-2900 or visit us online at Beebe Medical Foundation.
---