Beebe Healthcare Welcomes Cardiothoracic Surgeon Steven Marra, MD, FACS
Image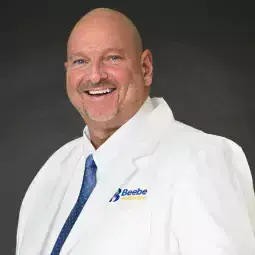 Steven Marra, MD, FACS, to its Medical Staff. Dr. Marra has specialized in cardiac surgery for more than 20 years. Previously, he was the Cardiothoracic Division Chief at Commonwealth Health's Wilkes-Barre General Hospital. During his career, he has also served as a medical director and vice chair, in addition to many years as an attending surgeon. Dr. Marra earned his medical degree and residency at MetroHealth Saint Luke's Medical Center in Cleveland, Ohio, which is an affiliate of the prestigious Case Western Reserve University.
"Being Sussex County's healthcare provider of choice means having the expertise of surgeons such as Dr. Marra in your backyard," said David A. Tam, MD, MBA, CPHE, FACHE, President & CEO, Beebe Healthcare. "Quality cardiology care and cardiothoracic surgery is a pillar of any community health system. We are excited to welcome Dr. Marra's expertise and experience to Team Beebe."
Dr. Marra has been an adjunct professor at Drexel University, the Commonwealth Medical College, and Vanderbilt University, as well as holding a professor role at James Madison University and Cooper University Hospital in New Jersey. He has served on numerous quality, safety and executive committees, completed a number of research projects, and published many book chapters and journal articles.
"I am very excited to be given the opportunity to join the already accomplished and committed administrative and medical staff here at Beebe Healthcare," Dr. Marra said. "The local community can be assured of Beebe's commitment to providing high quality care and services right here close to home."
He will see patients at Beebe Cardiothoracic Surgery in Lewes and in-hospital at Beebe's Margaret H. Rollins Lewes Campus. He is employed by Beebe Medical Group and is a member of Beebe Healthcare's Medical Staff. Call 302-644-4282 for an appointment.
---