Beebe Healthcare Welcomes General and Bariatric Surgeon Christopher Manieri, DO
Image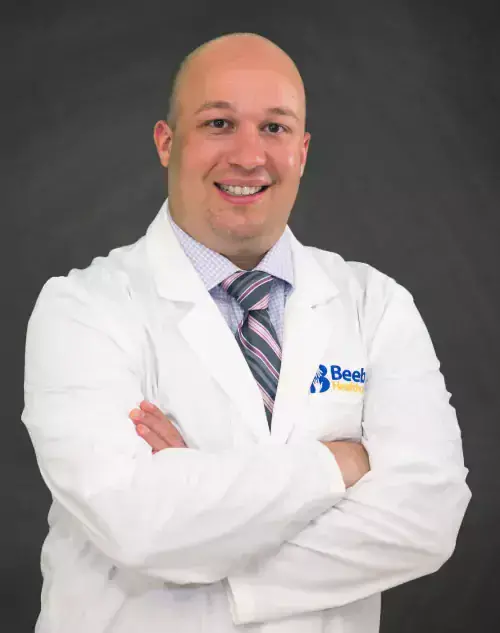 Beebe Healthcare and Beebe Medical Group proudly welcome Christopher Manieri, DO, to the organization's surgical team. Dr. Manieri is board certified in general surgery and specializes in bariatric surgery, offering minimally invasive approaches to optimize the patient journey of care and streamline the surgical recovery process. 
Dr. Manieri is a graduate of the Philadelphia College of Osteopathic Medicine. His post-graduate clinical training began at ChristianaCare Health System in Newark, Delaware, where he pursued a clinical rotation internship, before later completing a general surgical residency. Dr. Manieri's clinical training concluded with a bariatric and minimally invasive surgical fellowship at Inova Fair Oaks Hospital in Fairfax, Virginia. He is a member of the American College of Surgeons, the American Society for Metabolic and Bariatric Surgery, and the Society of American Gastrointestinal and Endoscopic Surgeons.
"Dr. Manieri's concentration on minimally invasive surgical techniques in the operating room is especially important. Patients tend to experience shorter hospital stays and quick recovery times when their surgeries can be performed using these approaches," said James Spellman, MD, FACS, FSSO, Chief of Surgery for Beebe Healthcare.
Dr. Manieri practices at the Beebe Center for Weight Loss Surgery, located in Georgetown, as well as at the Beebe General Surgery Center, located in Lewes. Patients who opt to pursue bariatric surgery undergo an extensive planning and preparation process, often taking place over a period of several months. Following surgery, bariatric patients continue seeing their surgeon on a regular basis for approximately one year, and sometimes even longer. Dr. Manieri values the opportunity to build meaningful relationships and bond with his patients, as these processes take place.
"The decision to undergo bariatric surgery is a team decision, made by the patient, the surgeon and the staff at Beebe. I spend a lot of time with my patients to discuss their challenges, answer their questions, and guide them in making important healthcare decisions," said Dr. Manieri. "It's important for patients to understand the surgical process, including what needs to be done to prepare, what to expect on the day of their procedure, what their recovery process will look like, and what they can expect, long-term. Most importantly, patients must understand that surgery is a tool to help them reach their goals, along with many key lifestyle changes. Education and support are important pieces of my work as a surgeon."
David A. Tam, MD, MBA, CPHE, FACHE, President and CEO, Beebe Healthcare, says that Dr. Manieri's commitment to excellence from both clinical outcomes and patient experience perspectives make him an ideal fit for the organization and Sussex County.  
"Our hospital is committed to delivering the highest quality, compassionate care so it's important that we bring  surgeons who share that vision," Dr. Tam said. "We are proud to add Dr. Christopher Manieri to our team of well-respected and highly accomplished surgical experts."
To schedule an appointment with Dr. Manieri, call 302-645-3332. For more information, visit www.beebehealthcare.org/doctors/christopher-manieri-do.
---