Beebe Healthcare's Doug Rahn Named Chairman of CommonWell Health Alliance Provider Advisory Council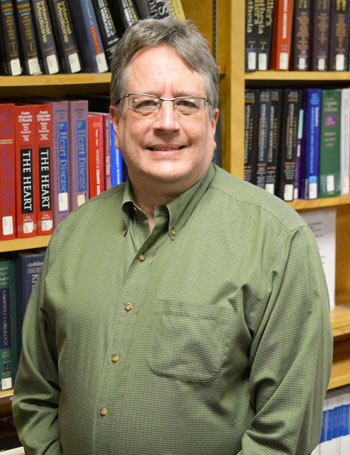 Beebe Healthcare is proud to announce that Douglas Rahn, RN, Project Manager for Beebe Healthcare, was named Chairman of the CommonWell Health Alliance Provider Advisory Council.
Beebe Healthcare is an early adopter and an active participant in the continued development activities with CommonWell and other partners across the nation to improve interoperability among disparate electronic medical records (EMR). Formed in February 2016, the CommonWell Health Alliance Provider Advisory Board ensures that the voices of providers, staff and patients are captured throughout all CommonWell efforts.
Mr. Rahn coordinates the strategic planning of IT projects for Beebe, oversees the Meaningful Use program, and serves on several health exchange committees.
"Having Doug participate on this council ensures the provider's voice is heard and incorporated in the continuous development and improvements of this interoperability standard focusing on patient-centric information exchange," said Mike Maksymow, Vice President/Chief Information Officer, Beebe Healthcare.
With 30 years of experience in healthcare, Doug serves as the CommonWell Project Manager for both inpatient and ambulatory practices at Beebe Healthcare, routinely works with CommonWell and is the hospital's liaison to the Delaware Health Information Network (DHIN), the first operational statewide health information exchange.
Mr. Rahn is a graduate of the Reading Hospital School of Nursing and obtained his Lean Six Sigma Certification in Healthcare from Villanova University.
About CommonWell
CommonWell Health Alliance is a not-for-profit trade association made up of diverse health IT stakeholders dedicated to creating universal access to health data via a person-centered, nationwide network. CommonWell members represent more than 20 care settings, including market leaders and technology innovators in acute, ambulatory and post-acute care, patient portals, imaging, retail pharmacy, population health, emergency services and more. CommonWell and its members are committed to the belief that access to health data must be built into information technologies at a reasonable cost for use by a broad range of health care providers and by individuals to best manage their health. To learn more about CommonWell Health Alliance, visit www.commonwellalliance.org. Engage with CommonWell on our Blog, as well as through Facebook, LinkedIn and Twitter using the handle, @CommonWell. CommonWell Health Alliance® and the CommonWell Logo are registered trademarks of CommonWell Health Alliance Inc.
Beebe Healthcare is a not-for-profit community healthcare system with a charitable mission to encourage healthy living, prevent illness, and restore optimal health for the people who live, work, and visit the communities we serve. The medical center in Lewes is a licensed 210-bed hospital with specialized service lines, including cardiac and vascular, surgical services, medical and radiation oncology, women's health, and orthopaedic services. Outpatient facilities, conveniently located throughout Sussex County, provide primary care, walk-in care, lab, imaging, and physical rehabilitation services, in addition to Beebe's home care services. For more information on services offered through Beebe, go to www.beebehealthcare.org. To find out how Beebe Healthcare is creating the next generation of care for the community, go to www.nextgenerationofcare.org.
---