Beebe Healthcare's Tina Trout Presenting at 2016 Diabetes Wellness Expo November 1 in Dover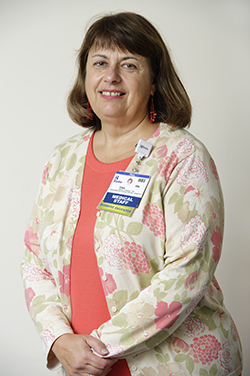 Tina Trout, APRN, ACNS-BC, CDE, Certified Diabetes Educator at Beebe Healthcare, will be presenting, "Why check my feet when I have diabetes?" during the 2016 Diabetes Wellness Expo, Tuesday, November 1, in Dover.
The annual conference draws presenters and participants from Delaware, Maryland, and the surrounding area. This year's theme is Love your Feet and Smile. Free foot exams, mouth exams, blood pressure checks, and flu shots will be available to participants. During last year's expo, Trout was surprised and honored to receive the first ever Tina Trout Leadership Award. She will be presenting it to this year's winner during the Expo. The award recognizes an individual who has shown passion, leadership, and commitment to those living with diabetes.
The keynote speaker for the event is Dr. Susan Pugliese, DDS, who will discuss the importance of oral health.
Presenters during the break-out sessions include:
Gena Riley, Community Health Coordinator, BOHDS, Delaware Division of Public Health
Cassandra Codes-Johnson, Director of Community Health, Delaware Division of Public Health
Adrian Wilson, DO, Family Medicine physician at Westside Family Healthcare
Tina Trout, APRN, ACNS-BC, CDE, Beebe Healthcare
Liz Ryan, Delaware Pharmacists Society
Jennifer Lee, Worldways Social Marketing
Michelle Foster, Mission Director, American Diabetes Association
Senator Bethany Hall-Long and Dr. Karyl Thomas Rattay, MD, MS, Director of Delaware Division of Public Health will also have remarks.
Trout's message will be just before lunch. For more information on the Delaware Diabetes Coalition and the Expo, go to https://www.dediabetescoalition.org.
Trout is a Certified Clinical Nurse Specialist with the Beebe Healthcare Diabetes inpatient and outpatient programs. She is the coordinator for Beebe's Diabetes Self- Management Education Program, which has been recognized by the American Diabetes Association since 2000. She became a Certified Diabetes Educator in 1984 and has been a passionate leader within the diabetes community ever since.
Since 2001, Trout has represented Beebe on the Delaware Diabetes Coalition, a statewide organization dedicated to diabetes outreach. The Coalition includes representatives from healthcare organizations, insurance companies, state health organizations and the Medical Society of Delaware, among others. It meets four times each year and Trout is currently Past President.
In addition to hosting the annual Diabetes Wellness Expo, the Coalition also publishes the Delaware Diabetes Coalition Resource Guide for Persons with Diabetes, which is available at no cost to anyone in Delaware, through the Delaware Division of Public Health, online at www.dediabetescoalition.org or by calling (302) 388-9728. The Resource Guide includes information about diagnosing diabetes, Diabetes Standards of Care, self-management, financial assistance and statewide resources. The 75-page booklet was developed by a team, which included Trout, in order to provide a one-stop information source for people with diabetes throughout Delaware.
---