Beebe Healthcare's Tunnell Cancer Center Receives $33,000 in Funding from Jean & Joan Golf Tournament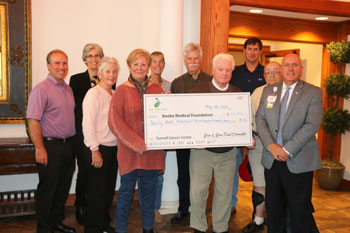 The Jean & Joan Golf Tournament committee recently presented the Beebe Medical Foundation with a donation of $33,000 for Beebe Healthcare's Tunnell Cancer Center from the proceeds of the 18th Annual Jean & Joan Golf Tournament held Monday, September 25, 2017. The annual tournament is held at Kings Creek Country Club in Rehoboth Beach.
Since its founding in 1999, the annual tournament has enabled the Jean & Joan Cancer Fund to donate over $513,000 from tournament proceeds to support cancer care at the Tunnell Cancer Center.
Funding from the tournament over the years has gone to fund patient transport vans; a 3D mammography machine to support early diagnosis and treatment of breast cancer; infusion recliners; new computer "Workstations on Wheels" that allow nurses to remain at a patient's bedside for patient care and charting; funds to help create a special "Patient Special Needs" fund; funds for construction of a scenic wall in the Tunnell Healing Garden; and funds to establish a library and center for fitting cosmetic and prosthetic devices for recovering cancer patients.
Future donations will support capital expansion of the Tunnell Cancer Center, enabling enhanced patient care.
Thomas J. Protack, Vice President of Development for Beebe Medical Foundation, shared, "The strong relationship of the Jean and Joan Cancer Fund Golf Committee, Kings Creek Country Club and so many loyal sponsors and players is inspirational. To have so many people donating and investing, year after year, in our local cancer center certainly encourages others to consider giving locally where many of our loved ones and family members are taken care of by the Tunnell Cancer Center team. Their gifts have made a direct impact on patient and family care here in Sussex County."
The tournament used a scramble format. Players began the day with a kick-off luncheon, and participated in a post-tournament reception and dinner, with prizes and silent and live auctions.
The Fund was founded in 1999 in memory of local cancer victims Jean James and Joan Martin, and the charity tournament has been played at Kings Creek Country Club every year.
The 19th Annual Jean & Joan Golf Tournament will be held Monday, September 24, 2018 at Kings Creek Country Club. Visit http://www.jeanandjoanfund.org for complete details.
"I am amazed and humbled at the incredible support the Jean and Joan Fund receives every year at our annual golf tournament. All of our sponsors, golfers, donors and volunteers contribute to make it a successful event. For 19 years, the Jean & Joan Fund has worked to provide patients at Tunnell Cancer Center with support in many ways, and we hope to continue this local tradition for many years to come," said Vicki Tull, Jean & Joan Golf Tournament Chair.
To learn more about ways to support and give to Beebe Healthcare and the Tunnell Cancer Center, or to have your event directly benefit the Tunnell Cancer Center, please contact Beebe Medical Foundation at (302) 644-2900 or visit online at www.beebemedicalfoundation.org.
To find out how Beebe Healthcare is creating the next generation of care for the community, go to www.nextgenerationofcare.org.
Caption:
The Jean & Joan golf committee presents Beebe Medical Foundation staff with proceeds from the 2017 tournament. Shown (left to right) are Kevin Wiest, Diane Barlow of Beebe Medical Foundation, Judy Wetzel, Cherrie Rich, Vicki Tull, David Mann, Jim Martin, Mike Tappan, Dick Keck, and Tom Protack, Beebe Medical Foundation.
---