Beebe to Host COVID-19 Virtual Community Town Hall, Jan. 8
Image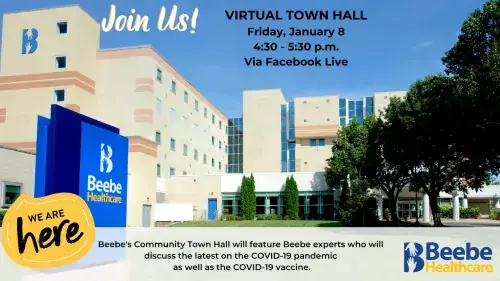 Beebe Healthcare will host a COVID-19 Virtual Community Town Hall featuring Dr. David Tam and Dr. Bill Chasanov to communicate the latest on COVID-19 and the vaccine to our community.
The town hall will be held on Friday, Jan. 8, 4:30-5:30 p.m.
Send questions to [email protected] by noon on Tuesday, Jan. 5, to have them answered during the town hall. Please submit just one question.
There are several ways to join - here on Facebook Live, by phone, or by computer.
Captioning and ASL Interpretation will be offered.
At the event time, you can choose one of the following ways to view the event:
* Go to Beebe's Facebook page and watch live.
* View on Laptop or Desktop:
https://primetime.bluejeans.com/a2m/live-event/pzyskxcs
* View on Tablet or smartphone:
a) Open this link : https://primetime.bluejeans.com/a2m/live-event/pzyskxcs
b) Download the app if you don't have it already.
c) Enter event ID : pzyskxcs
* Call in by Phone (no video):
Dial one of the following numbers, enter the participant PIN followed by # to confirm:
+1 (415) 466-7000 (US)
PIN 3798650 #
OR
+1 (760) 699-0393 (US)
PIN 8635993649 # 
---